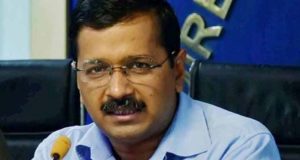 New Delhi: The Delhi government on Monday launched the doorstep delivery of 40 public services for the people living in the national capital.
Launching the scheme at the Delhi Secretariat, Chief Minister Arvind Kejriwal said people will now not have to waste their time standing in queues at government offices.
"This is the end of an era in governance and beginning of an era. Now, people will not have to stand in long queues. The government will come to your door to serve you and by doing this, the government will serve the public in true sense," Kejriwal said.
"This is a revolutionary change. Now people will not have to waste their time and money for multiple trips to the government offices. They just need to call on 1076 and request for the service they want. They need to pay Rs 50 and can get 40 services at their doorstep.
"The work will be done easily, fast and without any touts," he added.
Under the scheme, 40 services, including certificates of marriage, caste, domicile, income, births, deaths and duplicate RC among others, will be delivered.
Driving license, new water or sewer connection and disconnection will also be provided under the scheme between 8 a.m. and 10 p.m. through a 'Mobile Sahayak'.
All the 'sahayaks' — six in each 11 districts — will be geo-tagged and will be monitored by a supervisor of the district.
People can also file their complaints and feedback on the same number if facing any issue in the delivery of service.
Speaking at the event, Minister of Administrative Reforms Kailash Gahlot said in the coming months the government is aiming to extend the scheme to 100 services.
"I want to increase the scheme to all the public services provided by Delhi government," Kejriwal added.
"This is first time anywhere in the country or the world that government will go to people's door to serve them," Kejriwal said.
Talking about the hurdles faced by the government, he added that the "BJP, LG and the Central government tried stopping this scheme.
"The scheme was possible because of two reasons. First, our thinking to make the life of a common man easy. Second, our clear intention.
"There will be issues in the scheme, but we will work hard to resolve them and will serve as a model before the world," he added.
Kejriwal also said that he wanted to deliver rations to the doorstep of the people.
"There are various issues in the ration delivery scheme. I hope we will be able to overcome all hurdles and soon home delivery of ration will also become a reality," Kejriwal said.
CT-http://techkurrent.com/story/details/1253/aap-government-in-delhi-launches-doorstep-delivery-of-public-services