DPS Bokaro student selected by SPIC MACAY for National Programme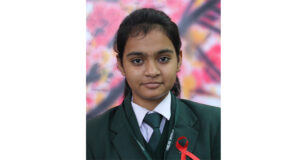 Bokaro: SPIC MACAY (Society for the Promotion of Indian Classical Music and Culture) has selected Kavya Jha, DPS Bokaro student, to volunteer the organisation at the National Programme to be held later this year.
An Online Global Orientation Programme on the theme: "Explore yourself with the core values of Indian Traditions and culture'' for various institutions from Jharkhand, Himachal Pradesh, Delhi, Punjab and Nagaland was organized by SPIC MACAY on 4 September 2020, informed a Public Relation official of the school.
DPS Bokaro was the only school in Jharkhand, chosen to represent the state of Jharkhand in the online session. As many as 16 students and 2 teachers from DPS Bokaro participated in the online interactive session. The session was also streamed live on YouTube, the highlight of which was the depiction of 'Ramayana' in the classical dance form Koddiyattam".
Based on the performance in the live session, Kavya was offered an opportunity to volunteer in the SPIC MACAY team at the National Level programme scheduled later.
SPIC MACAY is a non-political, nationwide movement to enrich the quality of formal education by increasing awareness about different aspects of Indian heritage and inspiring young minds to imbibe values embedded in it.
A. S. Gangwar, Principal, DPS Bokaro said that DPS Bokaro not only provides its students an opportunity and environment to learn but also gives them a platform to exhibit their cultural talent. "DPS Bokaro has been associated with SPIC MACAY over the years and hosts live program of renowned artists on a regular basis to teach the students about the cultural heritage of our country including music and other art forms," he added.