A First time voter drives 1300 kms to cast her vote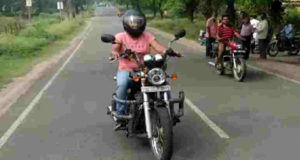 A first-time voter, Yashoda Dubey, resident of Sindri conducted 1300 kms road journey on her Bullet Motorcycle, rushed here from Noida to cast their right. In her journey, Yashoda kept people conscious about voting.
Yashoda lives with his parents in Sindri and presently she is doing engineering at Noida.
"I have voted for the first time today and feeling very good," said Yashoda. After conducting a long journey I just come here to vote for our Prime Minister Narendra Modi. He has done extraordinary work for our country, she said.
"During the stay in my journey from Noida to Dhanbad, I make people aware of voting and explained to them how much voting is necessary for them and for our country. I urged them to must exercise their franchise," she added.