A man fulfills wife's last wish, performs house-warming with her life-size statue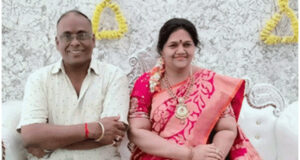 Bengaluru:  Meet Srinivas Gupta, a Karnataka based businessman who performed his house warming functions with a silicon statue of his deceased wife.
In memory of his wife, Gupta celebrated his house warming function in Koppal, installed a silicon statue of his wife MVK Madhavi with the help of architect Ranghannanavar.
"When the dream house was completed, I wanted that my wife is present with me at this most significant moment of my life," said Gupta.
"As Koppal is also a very hot place so the artist suggested me to have a silicon statue for durability," he added.
"It is a great feeling to have my wife again at my home, as this was her dream home. Shreedhar Murthy a Bengaluru based artist took 12 months' time to prepare my wife's statue," said Gupta.
In July 2017 Madhavi, was travelling to Tirupati with their two daughters when she met with a fatal car accident. In accident her daughter's sustained minor injuries while Madhavi could not survive said Gupta adding "While she was alive, it was her (Madhavi's) dream to own a bungalow so I decided to construct a house in her memory before two years."
The video and photographs of the house warming functions amazed the citizens after it became viral on social media. People cannot stop them from writing so much about his love and tribute to his wife. People were also mighty impressed with the skill and creativity of the artist for creating the life-size statue.
On Social media, a user L. Subramaniam tweeted: "Remarkable! The gesture by the industrialist and the artist's effort at portraying the emotions in a very appropriate manner."
"How much do you miss the person you love? This man from Bellary, Karnataka lost his wife in a car accident. And during his house-warming today he ensured she was present…by getting her wax statue done. Beautiful work by the artist too. So life likes. Love finds a way," tweeted Revathi.
Roshni Shah tweeted: "So much of love. Felt emotional. It may be a statue for the world, but for him, she is right there present with him. Brilliant creation. Talking about talent, no one can beat Indians."
"Hats off to Srinivasa Guptha for giving true value for his long term relationship. He is showing how we have to value our relationship, that is lacking nowadays in all families," tweeted another user.