Altigreen enters Pune, inaugurates its new retail experience center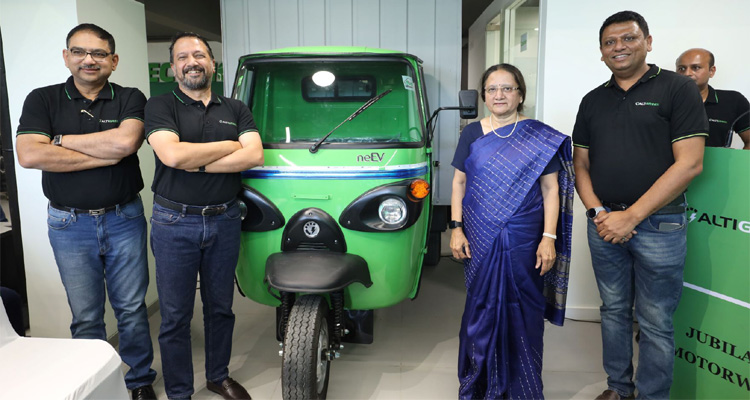 Pune: India's leading commercial electric vehicle maker Altigreen today inaugurated its brand-new retail experience centre in Pune. This is the company's eighth retail dealership in India in a span of two months.
As per the company, the experience centre will allow EV enthusiasts to access Altigreen's range of electric cargo vehicles. For the partnership, Altigreen opted to go with one of the most reliable and experienced names in the industry – Jubilant Motorworks.
Presently, Jubilant Motorworks is the largest dealer partner for Audi and MG motors, with footprints in the states of Karnataka, Tamil Nadu, Maharashtra, Goa, and Gujarat. The Altigreen Retail Experience Centre is located in Hadapsar, Pune.
The Altigreen-Jubilant MotorWorks showroom in Hadapsar, Pune, was launched at the hands of Rashmi Urdhwareshe, President at SAEINDIA and Former Director, ARAI.
With the launch of this retail dealership, Altigreen continues its commitment to providing its consumers with an enhanced and never-seen-before experience with world-class and modern infrastructure.
Every element of the dealership has been designed to lend a welcoming feel, especially to all those walking in, including autorickshaw drivers, small business owners, and people from all walks of life. Altigreen has left no stone unturned to ensure the dealership reflects the company's ethos of respect and empathy, and its endeavour to gain the trust of consumers through transparent dialogue.
The Maharashtra State Government's EV policy 2021 is aimed at accelerating the adoption of BEVs in the state so that they contribute to 10% of new vehicle registrations by 2025. The Government of Maharashtra promises to provide fiscal incentives, to the buyers of EVs in the state.
Also, Maharashtra is the only other state in India, after Delhi, which has a single window approval mechanism for setting up charging infrastructure vital to commercial viability. The new retail experience centre in Pune will help those making the transition to EVs experience Altigreen's range of offerings from up close.
Dr Amitabh Saran, Founder and CEO, Altigreen, said, "With the launch of this new retail experience centre in Pune, we are steadily building a strong nationwide network to cater to the rising demand for commercial EVs in the country.
For now, Maharashtra is the only state where we now have two retail experience centres. As a homegrown company, we take great pride in delivering Made in India products. We are investing significantly to strengthen our production and R&D capabilities while developing a robust pan-India distribution network to offer the best and cleanest last-mile transportation.
"We are happy to continue our partnership with Jubilant Motorworks, now in Pune as well, and deliver world-class products in multiple vehicle categories," he added.
Speaking on the occasion, Amit Jain CEO Jubilant Motorworks Pvt Ltd. said, "It's a momentous occasion for us to partner with Altigreen in chiselling the future of mobility in the country. We are aligned with the recent E mobility trends and already see a massive potential driven by the nation's agenda of electrification. We are extremely happy to be able to introduce eco-friendly mobility and a sustainable future into our business fabric. We introduce the full range of Altigreen' s premium quality vehicles for the first time in Pune at Jubilant Motorworks' facility in Hadapsar."
The Bengaluru-based company Altigreen is constantly ramping up its capabilities through innovation and has aggressive expansion plans to widen its pan-India presence and cater to the rising demand. Altigreen's product offering is standing on four strong pillars: longest range, largest volumetric capacity, highest ground clearance, and greatest torque. The company's commercial electric 3W offering neEV recently achieved the feat of completing 150+ kms intercity drive between two iconic places of Karnataka, i.e. Mysore Palace and Bangalore Palace, on a single charge in about six hours. In addition, the company recently announced a partnership to launch the fastest-charged 3-wheeler while offering over 100 chargers in Bengaluru itself.
The Vahan Dashboard of the Ministry of Road Transport and Highways has published a 330% YoY growth in EV sales in India. That number is just shy of five per cent of total new vehicle registrations. In comparison, Norway crossed the tipping point in 2013. Today, EV sales account for more than 83 per cent of new vehicles sold in the country.
Founded in 2013, Altigreen (https://altigreen.com/) designs, engineers and produces Electric Vehicles for the last-mile transportation segment. Altigreen's Made in India / Made for India products are specifically designed for Indian environment, road conditions and driving behaviours. Altigreen's technology results in 3W Electric Vehicles that compete in performance with Internal Combustion Engine (ICE) vehicles. Headquartered with a factory in Bangalore, and with regional footprints across India, the company's patent portfolio spans over 60 countries with 26 patents granted, including 6 in the US. Global awards received by Altigreen include those from WorldWide Fund for Nature, Niti Aayog, ARAI, Economic Times, Elecrama, IoTNext, IDTechEx and more. Altigreen recently raised a Rs 300 Cr investment from Sixth Sense, Xponentia, Reliance New Energy, Accurant and Momentum.