Andaman soon to be hub of 'blue economy': PM Modi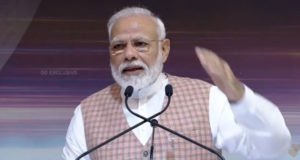 New Delhi: The Union Territory would be developed as a hub of 'blue economy' and 'high-impact' projects would be developed in 12 islands, said Prime Minister Narendra Modi said on Sunday.
The Prime Minister was interacting with BJP workers of Andaman and Nicobar Islands through a video conference in the presence of party president J P Nadda a day before the launch of the 2,300-km optical fibre cable connectivity project in Andaman & Nicobar.
The meeting comes a day before the inauguration of the submarine optical fibre cable connecting Chennai and Port Blair which would provide fast internet to the archipelago.
The submarine cable, which will also connect Port Blair to Swaraj Dweep (Havelock), Little Andaman, Car Nicobar, Kamorta, Great Nicobar, Long Island, and Rangat of the Island group, is expected to transform life in the remote Island including defence, business and tourism sectors.
According to the reports, an estimated 2,300 km of submarine optical fibre cable  has been laid at an expenditure of about Rs 1,224 crore and the project has been completed well within the deadline.
"The internet connectivity in Andaman and Nicobar will go through a sea change after the inauguration of the facility on Monday. This will facilitate online education, tourism, and business on the island," said the Prime Minister who also pointed to the strategic location of its ports which he said is established in "competitive distance" with many places and countries.
He said, "high-impact projects would be developed in 12 islands" and Andaman and Nicobar would emerge as a "blue-economy" front in the country.
Modi again stressed on "do gaj ki doori" and the importance of wearing a facemask to keep away coronavirus. "We need to insist on these two things and also spread awareness," added PM.
Modi said in the time of pandemic it is important that "dialogue should continue" with all and "we should be useful for all."
During the interaction, party workers described to the Prime Minister how they provided food and medical aid to people stuck on the island during the lockdown. Modi praised their efforts in serving the distressed people in the island during the coronavirus pandemic saying "you have passed with flying colours."
He asked party workers to continue their work with the spirit of 'Seva hi Sangathan' motto.