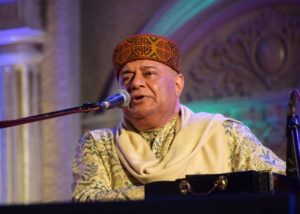 # 'Bhairav Mahotsav' leaves indelible impact on all's heart
Spreading the magic of his mellifluous voice, Anup Jalota enthralled the audience in 'Bhairav Mahotsav' organized at Chandankiyari in Bokaro district last night.
Started off with a bhajan that praised Lord Krishan and Lord Vishnu Anup's voice spellbound the audience. His performances of bhajans (devotional music) have the ability to carry the listener into a tranquil, relaxed and serene world. His rendering of 'Maiya mori main nahin makhan khayo' was also well received by the audience.
'Bhairav Mahotsav', which was kicked-off with cultural amity, left an indelible impact on all's heart. A two-day long effort to bring Chandankiyari in the list of important religious tourist spots of Jharkhand was concluded with vibrant and traditional tone on Sunday. The programme was organised by Jharkhand Tourism Department in joint association with the district administration Bokaro, where people rejuvenated the tone of Indian classical music, dance and enjoyed several cultural promrammes organised on this eve. Many artists from Jharkhand and other parts of the country Aditya Narayan, Sona Mahapatra, Kuldip Dewedi and Blind Ford Band enthralled the audiences.
Aiming to enhance tourism in Jharkhand and to make the state a cultural hub, a two days event was kicked-off at Bhairavh Sthan, in Chandankiyari block of Bokaro district on Saturday. Amar Bauri Minister for Revenue, Land Reforms, Art, Culture, Sports and Youth Affairs of Jharkhand inaugurated the festival.