Army will decide When, Where and How to Pulwama offenders: PM Modi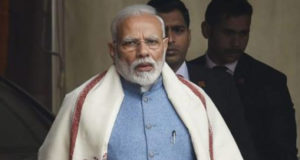 JNS: "Sacrifice of Pulwama martyrs will not go in vain. Our security forces have been given a free hand to punish the perpetrators of the attack," Prime Minister Narendra Modi said. Even if the terrorist organisations try to hide, they will be sought out and punished for the crime they have committed, he warned.
"The next step will be taken by our army men, what should be the time, what should be the place and what should be the form, they have been authorised to take all the decisions," added Modi.
At least forty CRPF cops were killed and five injured in one of the deadliest terror attacks in Jammu and Kashmir on Thursday, when a Jaish-e-Mohammed suicide bomber rammed a vehicle carrying explosives into their bus in Pulwama district of Jammu and Kasmir on Thursday.
'All of us can feel the pain of families of the Pulwama martyrs. We understand your anger', he said adding "A nation which is on the verge of bankruptcy has now become the second name for terror."