Bangalore gets first Robot Restaurant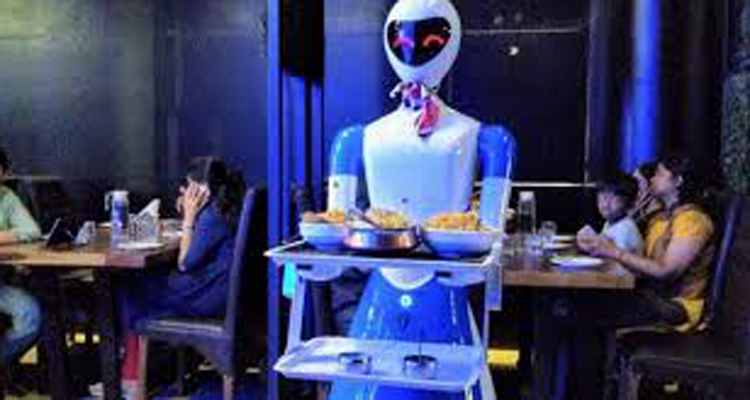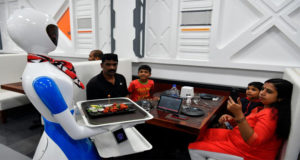 JNS: Bangalore just got its first Robot Restaurant, where robots serve food to the customers. Located in Indiranagar, the restaurant will serve a variety of cuisines from Indian to Chinese to Thai; is open for lunch from 12 noon to 3 pm and from 7 pm to 11 pm for dinner.
Arya, Ramya, Zoey, Alice, and Sansa serve food while another robot welcomes guests at the entrance of the restaurant.
These are Android-run robots which run on Japanese technology were imported from China. The robots have also been equipped with built-in facial recognition technology and can sing birthday wishes for those celebrating their special day at the restaurant.
The restaurant, which can seat up to 50 visitors, is designed with extra space between the aisles to help the robots seamlessly navigate. Each table is equipped with a digital tablet through which dishes can be selected and ordered. Once the food is prepared, a robot is assigned to deliver the food to the table.
According to the media reports, a team consisting of 6 robots, including 1 usher and 5 bearers will serve the food once ready. This restaurant will be manned by female robots, each sporting a name tag and colourful scarves. Sprawling across an area of 3,700 sq ft, the restaurant has been designed to provide extra space between aisles in order to ease navigation for the robots.
The founder of the restaurant Venkatesh Rajendran claimed that these Android robots will greet the guests at the entrance, guide them to the tables and will have built-in facial recognition technology. The robots have also been programmed to sing birthday wishes in case of special occasions, Business Line reported.
The first robot restaurant was launched in 2017 in Chennai and as per reports by Business Line, after a grand success in Chennai and Coimbatore Rajendran said that he was confident that Bangalore would welcome them with open arms.