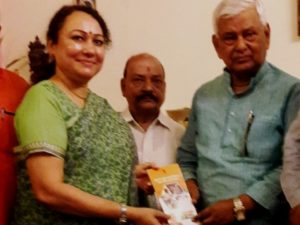 Dozens of BJP leaders led by Dhanbad MP P. N Singh along with Bokaro MLA Viranchi Narain today met DPS director principal Dr Hemlata S Mohan seeking her cooperation to acknowledge the four years achievements of Union government led by Prime minister Narendra Modi.
Handing over a booklet of 4 years achievements of the NDA regime, the Dhanbad MP showered praise on Dr Mohan branding her an intellectual, learned lady of high values, social worker who proved her mettle not only as Director principal of DPS school but also as chairman of Jharkhand Women commission who worked round the clock for empowerment of women of Jharkhand.
Dhanbad MP said that intellectuals and qualified professionals are powerhouses of society and if the learned people like Dr. Mohan and others acknowledge good works done by NDA, it will help the country to become more powerful and leap forward in development at global level under the leadership of Narendra Modi.
Dr. Mohan appreciated the good work done by Narendra Modi on National and International Level which has brought prestige to the nation.