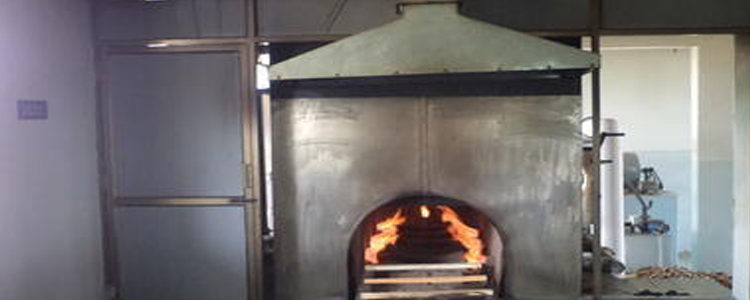 Bokaro soon to get natural gas-based crematorium
Bokaro: Bokaro soon to get a pollution-free and cost-effective compressed natural gas-based cremation system at Burning Ghat on the bank of Garga River.
The Chas Municipal Corporation will install CBM-fuelled (Coal Bed Methane) ovens at crematoria; the energy-saving and eco-friendly cremation the system will be introduced for the first time in the state.
Additional Municipal Commissioner Shashiprakash Jha along with other officials inspected the place at Burning Ghat, Garga River for the installation of a crematorium house machine on Tuesday.
In collaboration with ONGC, this crematorium would be operated by CBM at Burning Ghat at Garga Bridge, informed Jha. "After the installation of this natural gas-based cremation a system, there will be complete control over infection by the dead body and pollution in the city, as the body, will be in the combustion chamber," said Jha.
"We are at work, also for the better arrangements for those people (to sit, wait and pray) who come here with the dead body for cremation," he added.
M/s MSRC (a private firm) has given a proposal to erect the system at Garga. We are exploring the possibilities of introducing a CBM based furnace here to reduce pollution, said an official.
The CBM based crematoria are not only convenient but also cost-effective and eco-friendly than the conventional fuelwood and electric-based ones.
Each and every year the statistics of felling trees to use in the last human rites is surprising, "We lose about 2 lakh hectares just for felling trees for burning dead bodies", said an official adding "about 400 kgs of wool required in the conventional method of cremation of a body."
This system not only helps reducing greenhouse gas (GHG) emissions and thereby mitigating global warming but also makes cremation process affordable to economically weaker sections of the society, he said.
Though, all rituals like 'Tarpan', 'Mukhagani', Kapalkriya including others can be performed in a traditional manner without affecting the religious faith of the people", he added.
When completed, the project would help to save several tons of woods beside reducing 25,000 tonnes of (CO2 ) GHG emissions annually, said the official.
An expert said, using CBM is economical too. While traditional methods cost Rs 2,000 to 5,000, while cremation using CBM will cost less than Rs 1,000. One body could be completely burnt in one-and-a-half hours, he said.