Bokaro Steel Plant wins Greentech Environmental Excellence Award-20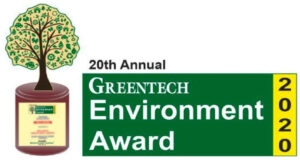 JNS: Bokaro Steel Plant (BSL) has been conferred with the prestigious Greentech Environmental Excellence Award-20 in the category "Recycling and Waste Management", organized by the Greentech Foundation.
The Greentech Environment Award is given annually for the responsible, innovative practices and excellent initiatives to achieve sustainable goals. The award to Bokaro Steel Plant will be presented at the "20th Annual Greentech Environment Summit" to be held in Mahabalipuram on 11-12 February 2021, informed a BSL Public Relations Official.
To Bokaro Steel Plant has been awarded the prestigious Greentech Environment Award for significant contribution in the concerted efforts towards waste utilization, incredibly innovative work in the field of LD slag, implementation of zero discharge projects, use of BF slag, and improvement in environmental parameters.
Expressing happiness over BSL's achievement, the Director in-charge of BSL, Amarendu Prakash, congratulated the steelworkers and reiterated Bokaro Steel's commitment to sustainable development.
It is noteworthy that on October 27, on behalf of Bokaro Steel Plant, Assistant General Manager (ECD) Nitesh Ranjan made a presentation to the members of the Jury under the presence and guidance of General Manager (ECD) NP Srivastava. The jury members included former chief factory inspector, former MD (Canara Bank), former director (ONGC), and other distinguished people.
Bokaro Steel Plant has been declared the winner of the "Greentech Environmental Excellence Award-20" based on the Bokaro Steel Plant's application and submission and a review of the plant's efforts.