Bokaro students exhibit exemplary performance in JEE (MAIN)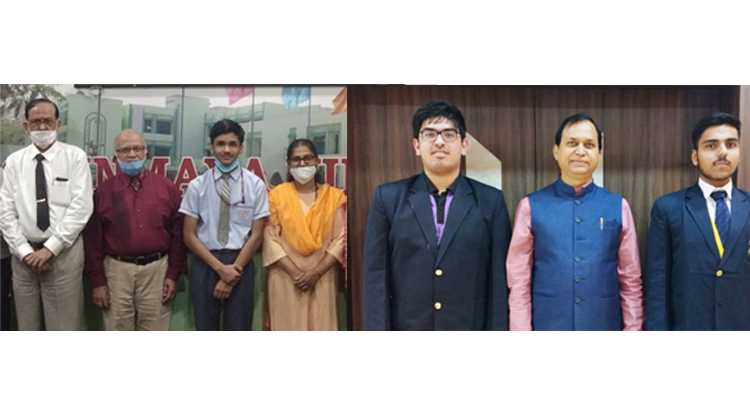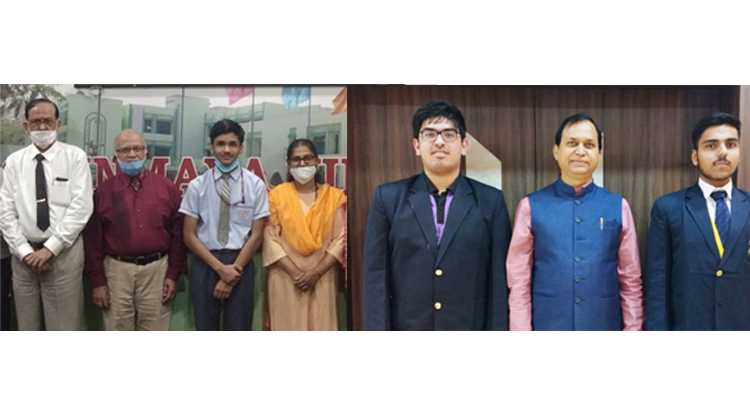 Ashis Sinha I Bokaro: Over hundreds of the students from Bokaro made their mark in the Joint Entrance Exam (JEE) Mains 2021 (February session). Performing excellently in the JEE Mains exam, Bharat Kabra student of Chinmaya Vidyalaya scored 99.85 percentile marks.
DPS Bokaro Public Relations Official informed, "Exhibiting exemplary performance, more than a half-dozen students of DPS Bokaro secured more than 99 percentile in JEE Main while altogether 41 students have secured more than 90 percentile."
Though unofficially there are several others who have bagged more than 90 percentile as per information received so far the students who made their school proud are:
Aditya Kumar (99.67); Varun Tandon (99.58); Adarsh Raj Shrivastava (99.41); Ankit Raj(99.26); Shivansh Pandey (99.18); Sadique Amin(99.16); Shivam Kumar (98.66); Navya Nihal (98.54);Amisha Singh(98.39); Shreya Shree(98.13);Atharv Tripathi (98.00); Utkarsh Kumar (97.95); Dev Jyoti (97.81);Rahul Dey(97.67);Deepanshu Kumar (97.04); Mayank Anand (97.01) Aryan (96.33); Aditya Ray Mishra(96.28);Ashit Aryan (96.10);Utsav Shekhar (96.01);Anurag Sinha (95.53);Sachin Kumar (95.46);Satwik Singh(95.45);Anannya Srivastava (95.12);Saksham Kumar (95.09);Rishav Kumar (94.97) Divyanshu Dev (94.90);Jai Gupta(94.40); Anvay (94.38);Joy Sinha(94.09); Piyush Kumar Burnwal(94.06);Yash Chand (94.01);Vipul Vaibhaw (93.04); Gaurav Kumar Singh (92.86);Ankit Singh (92.86); Sidhant Sharma (92.04);Abhinay Agarwal (92.01); Nitin Nayan (92.00); Anushka Singh (91.27); Vinit Kumar (91.26); Ankur Kumar (90.34);
Principal, DPS Bokaro A. S. Gangwar said that despite the crisis faced by the students during the pandemic, the results are satisfactory, but we do hope for better results in the upcoming exams. He extended his best wishes to the students for the forthcoming exams
Meanwhile, blessing to Bharat Kabra (student of Chinmaya Vidyalaya who scored 99.85 percentile marks) on his success school secretary Mahesh Tripathi and Principal Ashok Kumar Jha said that this promising student has been a very promising student of the school from nursery to 12th. "In the future, this student will write a chapter of success. Bharat has also been the second topper in the Class X examination," they added.
Among other students, Abhinav Prakash got 99.39, Harsh Raj 99, Aditya Kumar 98.77, Saurabh Kumar 98.6, Mayank Kumar 98.57, Aryan Chaudhary 98.36, Apoorva Kabra 98.14, Anup Mahtha 97.9, Harsh Raj 97.82, Harshvardhan 97.5, Pranav Raj secured 97.3, Hritik Jha 96,6, Manoranjan 95.7 and Ankit Kumar secured 95 percentile marks.
As per the information received (till now), more than 65 students of the school showed their talent by performing brilliantly in JEE Mains.
Samyuktini Swamini Samyuktananda, the resident Acharya of Chinmaya Mission Bokaro, wished all the successful students for their bright future.