BSL to install water harvesting systems inside plant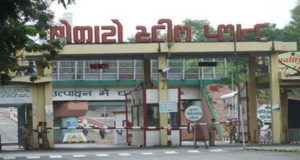 Ashis Sinha I Bokaro: In an effective exercise to increase the water table, Bokaro Steel Plant (BSL) is on the move to erect water conservation structures, including rainwater harvesting systems and groundwater recharge inside the plant premises.
Moving a step towards water conservation, we are at work installing rainwater harvesting systems along with Groundwater recharge in the buildings inside our plant premises. The project will cost several lakhs rupees, informed Mani Kant Dhan, Chief of Communication BSL.
Chief General Manager (Mechanical) PK Baisakhia inaugurated the project on Monday.
We have the plan to erect five rainwater harvesting systems inside the plant premises, said Dhan.
"Under this, one system will be installed in the Executive Director (Operations) building, two in the R&C Lab building, one in the PPC building and one in the Water Management and Lubrication Cell building," he added.
Through these water harvesting systems, the rainwater will pass through small and large filters into the groundwater, which will increase the groundwater table of the city and its areas.
Last year a Rain Water Harvesting System was commissioned by the Department of Environmental Control in the Fire Service Station building near the plant's Environment Building; the rainy water stored in the tank is currently being used for firefighting works of the plant.
Besides others, Chief General Manager (CED) Shaligram Singh, General Manager (ECD) Naveen Srivastava, and officers and employees were present on occasion.