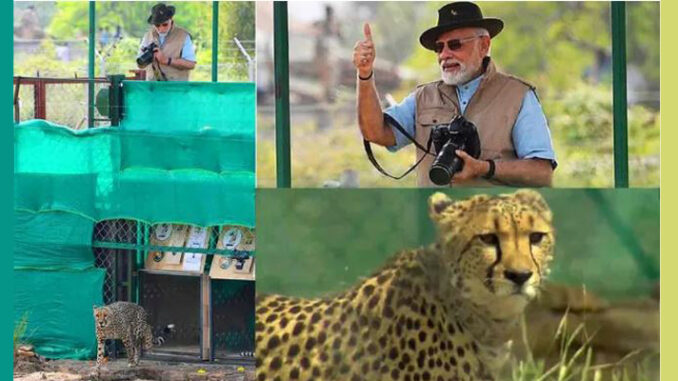 JNS: Prime Minister Narendra Modi today released wild Cheetahs, which had become extinct in India, in Kuno National Park. Cheetahs that have been brought from Namibia are being introduced in India under Project Cheetah, which is the world's first inter-continental large wild carnivore translocation project.
Out of the eight Cheetahs, there are five females and three males. PM released Cheetahs at two release points in Kuno National Park.  On the occasion, he also interacted with Cheetah Mitras, Cheetah Rehabilitation Management Group and students at the venue.
The release of wild Cheetahs by the Prime Minister is part of his efforts to revitalise and diversify India's wildlife and its habitat. The cheetah was declared extinct from India in 1952.
The Cheetahs will help restore open forest and grassland ecosystems in India. This effort, in line with the Prime Minister's commitment to environmental protection and wildlife conservation, will also lead to enhanced livelihood opportunities for the local community through eco-development and ecotourism activities.
The historic reintroduction of Cheetahs in India is part of a long series of measures for ensuring sustainability and environment protection in the last eight years which has resulted in significant achievements in the area of environment protection and sustainability.
In his address to the nation on the occasion, the Prime Minister said that the India of the 21st century is giving a message to the whole world that economy and ecology are not conflicting fields. He said that India is a living and breathing example that economic progress of the country can take place along with protecting the environment.
He pointed out that today when the world looks at nature and the environment, it talks about sustainable development. For India, nature and the environment, its animals and birds, are not just about sustainability and security but the basis of India's sensibility and spirituality.
The Prime Minister underlined that this monumental occasion has led to the nature-loving consciousness of India being awakened with full force. Modi congratulated all the countrymen on this historic occasion while making a special mention of Namibia and its government with whose cooperation, the cheetahs have returned to Indian soil after decades.
The Prime Minister remarked that even though cheetahs had become extinct from India in 1952, no meaningful effort was made to rehabilitate them for the past seven decades. He expressed elation that in the Azadi Ka Amit Mahotsav, the country has started to rehabilitate cheetahs with new energy.
Drawing everyone's attention to the years of hard work that went behind making this rehabilitation successful, he said that the utmost energy was deployed for an area that is not given too much political importance.
He mentioned that a detailed Cheetah Action Plan was prepared while India's talented scientists conducted extensive research, working closely with South African and Namibian experts.
Speaking on the occasion, the Prime Minister thanked the government of Namibia for help in programme to reintroduce cheetahs to India. He added that Cheetahs are our guests and they should be given a few months to make Kuno national park their home.