China tests prototype magnetic levitation train, maximum speed 600 kmph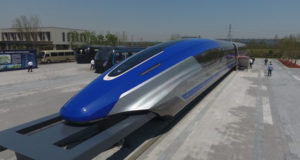 GNS/Beijing: Taking a step forward in the development of the nation in public transport with the hassle-free way with speed, China test rides a prototype magnetic levitation train with a designed maximum speed of 600 kmph, which its manufacturers say could pose major competition to the airline industry.
The train designed and made by the CRRC Qingdao Sifang Co, a wholly owned subsidiary of China, was unveiled on Thursday to the media in the eastern port city of Qingdao in Shandong province.
Once operationalised, it could pose major competition to the airlines, its manufacturers said.
It can help check and optimize key technologies and core system components of the high-speed maglev system and lay a technological basis for an engineering prototype, Ding Sansan, head of the train's research and development team and deputy chief engineer of CRRC Qingdao, said.
"The prototype has already achieved static levitation and is in ideal condition," Mr. Sansan told media in Qingdao.
"We are building an experimental centre and a trial production centre for high-speed maglev trains and expect to put them into operation in the second half of the year," he said, adding that research and development of a five-carriage engineering prototype is proceeding smoothly.