Chinmaya Vidyalaya Students shines in JEE Mains 2021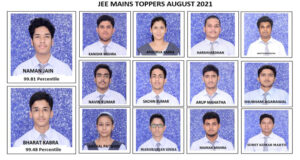 JNS: Proving their mettle Once again the students of Chinmaya Vidyalaya, Bokaro has made the school proud with their outstanding performances in JEE Mains exa, 2021. The National Testing Agencies (NTA) declared the Joint Entrance Examination (JEE) Mains 2021 result on Saturday.
Naman Jain has scored 99.81 percentile securing first position in Vidyalaya. As per the latest updates 12 students have secured more than 95 percentile.
Students who have hit the bull's eye are: Naman Jain, Bharat Kabra, Kanishk Mishra, Apporva Kabra, Harshvardhan, Anup Kumar Nayak, Navin Kumar, Sachin Kumar, Arup Mahatha, Shubham Agrawal, Aachal Patwari, Manoranjan Sinha, Mayank Mishra, Sumit Kumar Mahato, Aman Kumar Singh, Priya Kumari.
Resident Acharya, Swamini Samyuktanadaji, President, Chinmaya Vidyalaya Shri Biswaroop Mukhopadhaya and Secretary, Chinmaya Vidyalaya, Shri Mahesh Tripathi, Principal, A K Jha  complimented and congratulated the students, teachers and parents on their golden success. He further said, "This is a proud moment for our Chinmaya family.