CIL join hands with IIT-ISM to spread innovation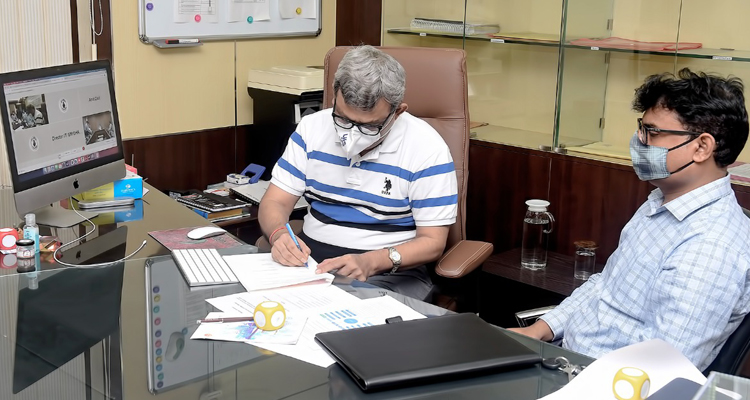 JSN: Coal India Limited (CIL) has signed an Memorandum of Agreement (MoA) with IIT (ISM) Dhanbad to setup CIL Innovation & Incubation Centre at IIT (ISM) Dhanbad.
The MoA was signed by Binay Dayal, Director (Technical) CIL and Professor Rajiv Shekhar, Director, IIT (ISM) Dhanbad with financial support by CIL to engage future technocrats and the community at large in innovation and entrepreneurial activities and support startups in the core business areas of Coal India Ltd.
Pramod Agarwal, Chairman cum Managing Director, CIL presided over the function. The Centre will run under the aegis of Dean (Innovation, Incubation & Entrepreneurship).
As a part of this initiative, CIL will provide financial support to IIT (ISM) Dhanbad to set up the CII Centre; providing them with a conducive environment, infrastructure facilities and other value-added services in an equitable fashion to accelerate the growth and spread of innovation in the country.
IIT (ISM) and CIL are collaborating to set up the CII Centre with the objective to nurture innovators with technical & social impact to ideate in the domain of Technology Innovation and Community Skill Development (highlighting the technology domain areas of CIL, for aligning with the possibility of promoting economically viable start-ups in the core business area of CIL and allied sectors) such as Sensors & Electronics, Mine Automations and Process Control, Mobile and Information Technology; Innovations in Mining Process, Technologies, Mine Machinery; Software-based Simulation and Optimization, CAD/CAM; IoT & Block Chain; Alternative Energy Resources (including innovation of solar technology, storage battery for off-grid system), Energy Audits; Clean Energy for Carbon Neutrality; Safety, Health and Environment, etc., and providing opportunities to innovate and design unique and incentivized solutions for the immediate beneficiaries like local community peoples, contract workers of CIL, students & employees of the institute, industry, society and nation as a whole.
The centre will organize annual events like workshops, seminars, tech fest and publish quarterly or half-yearly newsletters to promote and encourage stakeholders with the latest technological advancement and then applicability in the mining sector.
This MoA shall be valid after its signature from the date of signing till Five Years.
Besides others, M. K. Singh, ED (Coordination) / TS to Chairman, Dr. M.K. Mishra, ED (E&E), Bablu Porel, GM (Excavation), P R. Prasad, GM (Mining) and Chandra Shekar Singh, AGM (M)/TS to D(T) of CIL along with Professor Dheeraj Kumar, Dean (Innovation, Incubation & Entrepreneurship), Professor A. K. Mishra, HoD (Mining Engineering), Professor A. R. Dixit, HoD (Mechanical Engineering), Professor Pankaj Mishra, Assoc. Dean (Innovation) and Professor Ajit Kumar were present there.