Coal mines pit water to solve water crisis in Dhanbad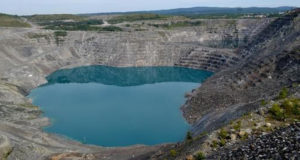 Over billion liters of water reserved into closed coal mine pits in Dhanbad would be supplied to solve the water crisis after treatment.
According to an estimate, nearly 94 billion gallon water is reserved into 39 closed coal mine pits belonging to BCCL in Dhanbad would be treated to make it potable. Around 11 lakhs population residing in Dhanbad Municipal Corporation (DMC) area will get the supply through pipeline in their houses, an official informed.
Billions of liters of water are lying unused in these pits, while residents of Dhanbad and in its outskirts are suffering from the acute drinking water crisis. After getting the preliminary feasibility report (PFR) that water from the mine pit can be treated to make it usable Government has given node for the supply of pit water in the DMC area.
For the first phase, three closed mines (Dharmabandh, Phulwaritand and Katras) has been identified for the supply of its reserved water in the DMC area; the project will be operated jointly by the District Administration and Water and Sanitation Department, informed an official.
Water of these three mine pits would be supplied in Sinidih, Nawaghar, Mohanpur, Bansjora, Brahamadih, Chatudih and Malkera villages through pipelines, he said.
Meanwhile, BCCL has also prepared reports on its 39 closed mines and submitted the report to the district administration along with its proposed plan to supply pit water from its 21 mines after treatment.
According to the plan about 90 lakhs liter of water would be supplied after treatment per day after the implementation of the project and at least 5 lakhs population will get potable water supply while 6 lakhs will get the supply for domestic purposes after treatment of the water of Phulwaritand, BOCP, New Akashkinari colliery, Block 4, Katrash Chatudih, Govindpur Colliery, Goddudih, Dhansar, KB Five pit, PB Project, South Balihari, Bhagabandh, Ldona, Shimlabahal, Barodaghar, Jairampur, Barari, Jaingora, Lohapatti, Murlidih, Basantimata, Dabibari including others, report reveals.
Besides the State Government, the ministry of coal has also given clearance for the supply of pit water, informed an official. Unused water from closed mine pits at BCCL in Dhanbad will be treated to make it potable, said the official.