Contract worker injured at Bokaro Steel Plant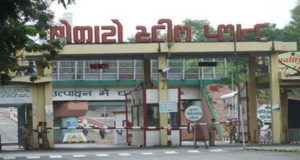 Bokaro: A contract worker was severely injured in an accident in Steel Melting Shop-2 (SMS) at Bokaro Steel Plant (BSL). Immediately with the help of co-workers he was rushed to the plant medical unit where his condition is still critical, hospital authority informed. According to the eyewitnesses, Chetlal Modi got severe head injuries in the accident. He was working on the platform at Converter No 2 at SMS-2. Suddenly debris fell down on his head while he was cleaning the lance, said the eyewitness. The debris was so heavy that it destroyed the helmet and Chetlal got severe head injuries, said another eyewitness.
Chetlal was a semi-skilled contract worker of M/s Sandeep Enterprises, working at BSL. A few days earlier, one BSL employee was injured after the hook of a crane broke down at Cold Rolling Mill (CRM). Besides Plant, collapsing of roofs, upstairs, walls of the BSL's residential quarters are also on rise in  the township area.