Country's first iconic Olympics Garden inaugurated at Bokaro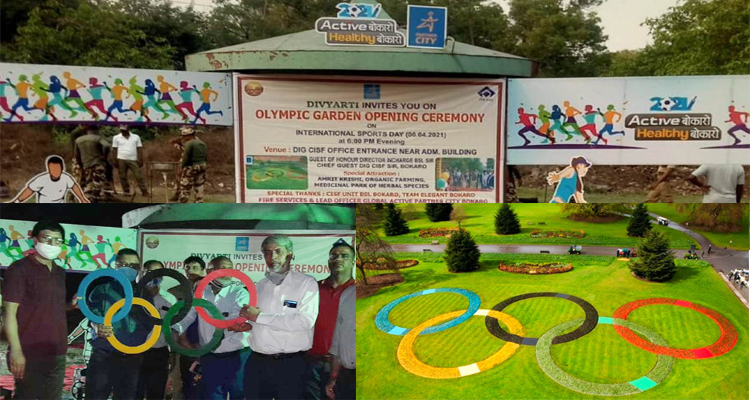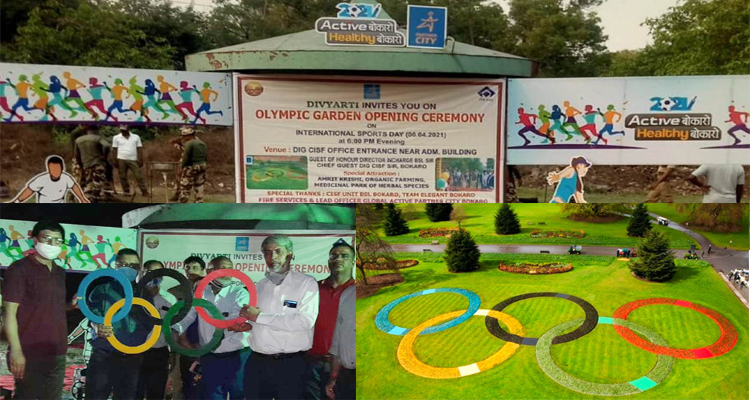 Ashis Sinha I Bokaro: Country's first iconic Olympics Garden inaugurated in Bokaro Steel City on the auspicious occasion of the 8th International Sports Day on Tuesday.
The garden is situated few yards ahead from Naya More, near the Administrative Building of Bokaro Steel Plant (BSL), which is also the Bokaro township area's entry point.
"The first of its kind, Olympic Garden in India at Bokaro will empower the missions of the Olympic Movement as well as the much-desired Sports Culture in the country," said an official.
It will also boost the city's sporting ambience and be a cynosure of the entire state and the nation, said Amrandu Prakash Director-in-Charge Bokaro. He was speaking as Guest of Honour on the inaugural eve.
"It will act as a nodal unit for Green revolution through Organic farming, Amrit Krishi and medicinal herbal plant park," said Saugata Roy, DIG, CISF, Bokaro as Chief Guest on the eve.
"This garden will build closer alignment with United Nations through sustainable Development Goals (UNSDGs) and International Olympic Committee (IOC)," said Jaideep Sarkar Lead officer Global Active Partner City Bokaro
Like London's famed Kew Gardens or the Royal Botanic Gardens with Olympics rings — flowers (plants) in each of the ring's five colours would grow up here very soon; types of flower plants to be used at proposed Olympic Garden at par with Kew Olympic Garden, London includes— Yellow: French marigold (Tagetes patula); Blue: Garden lobelia (Lobelia erinus); Red: Pelargonium geranium; Green: Apple mint (Mentha suaveolens) and Black: Lilyturf (Ophiopogon planiscapus), he informed.
Bokaro Steel City has recently won the 'Global Active City' (GAC) standard and is now the first city in India and the second in Asia to get the spot. Bokaro has recently been recognised for its GAC standard. Karasiyaka in Turkey in Asia is the first city, got a prestigious standard.
It is a planned town created and maintained by the Bokaro Steel Plant (BSL), regarded as the 'Educational' and 'Steel' hub. Now the city is turning as 'Sports Hub'; got the place in the worldwide list of 'Active Well-being Initiative Network's sponsored by the IOC Committee. Around 39 sports facilities were soon to be built in the Bokaro Steel Township area and its suburbs in order to promote sports and mass well-being events.
Notably, the UN-IOC proclaimed the International Day of Sport for Development and Peace (IDSDP) to commemorate the inaugural Day of First Modern Olympics in 1896 at Athens. Bokaro happens to be the first proud Indian city to celebrate the occasion since its inception in 2014.