Cyclone Fani: High Alert sounded, Over 10 lakh people shifted to safer places in Odisha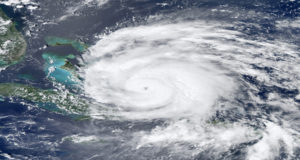 JNS: More than 10 lakh people were evacuated in as many as 15 districts by Thursday late evening aimed at minimising possible damage from the "extremely severe" cyclonic storm Fani that is expected to make landfall at India's southeastern coast on Friday.
According to Special Relief Commissioner Bishnupada Sethi, more than 3.5 lakh people were evacuated from low lying areas by 3 p.m. on Thursday. He said that the administration was trying its best to make people in the coastal areas aware of the risks that were lying ahead through loudspeakers, sirens and messages
More than 125 trains have been cancelled in view of the approaching cyclonic storm. People living in vulnerable areas along the coast were put in buses and smaller four-wheelers and then in trains and brought to cyclone shelters specially prepared for them.
Cyclone Fani is expected to make the landfall near the temple town of Puri on the coast of the Bay of Bengal in Odisha between 8 am and 10 am on Friday (May 3), according to the latest forecast by India Meteorological Department (IMD), and it will continue till 12 noon.
IMD says 19 districts of Odisha, West Bengal and Andhra Pradesh are likely to be hit by Fani. Even red warning has been issued to some districts of Uttar Pradesh. Parts of north coastal Andhra Pradesh started receiving heavy rain as Fani in the Bay of Bengal neared the coast.
The IMD on Friday warned that Fani is moving northwards with a speed of 5 km per hour in last six hours and is likely to make landfall at Odisha coast between Gopalpur and Chandbali anytime after Friday afternoon, with wind speed of up to 200 km per hour. Currently, Fani lay centred over West Central Bay of Bengal about 430 km south-southwest of Puri in Odisha, 225 km south-southeast of Vishakhapatnam in Andhra Pradesh and 650 km south-southwest of Digha in West Bengal.
The IMD predicted that the cyclone will first hit Puri district after which it will move northwards towards Khurda, Jagatsinghpur, Cuttack, Kendrapada, Jajpur, Bhadrak, Balasore and Mayurbhanj. IMD bulletin said storm surge of about 1.5 metre above astronomical tide is likely to inundate low lying areas of Ganjam, Khurda, Puri and Jagatsinghpur districts of Odisha at the time of possible landfall.
Several areas are likely to receive rainfall up to 20 cm under the impact of the cyclone. According to IMD, maximum damage is expected in Kendrapara, Bhadrak, Jajpur, Balasore, Ganjam, Gajapati, Khurda, Puri, Jagatsinghpur districts of Odisha and east and west Medinipur, South and North 24 Parganas, Howrah, Hoogli, Kolkata districts of West Bengal and Srikakulam, Visakhapatnam and Vijayanagaram districts of Andhra Pradesh. The cyclone is likely to enter West Bengal as a 'severe cyclonic storm' of 90- 100 kmph gusting to 115 kmph. It is likely to emerge into Bangladesh on the evening of 4 May as a cyclonic storm with wind speed 60-70 kmph gusting to 80 kmph.
Prime Minister Narendra Modi reviewed the preparedness for Fani and instructed Government officials to maintain close coordination with officials of the affected States to ensure preventive measures.
Modi also asked the officers concerned to take effective steps for relief and rescue operations. He was briefed on the likely path of the cyclone, and the ongoing precautionary and preparatory measures being undertaken.
All the 880 cyclone centres have been readied for the purpose. Boats have been kept in a state of readiness. The Railways on Thursday said around 102 trains have been cancelled in the last two days in view of the cyclonic storm, while three special trains pressed into service to ferry stranded passengers from affected areas. Four trains have been diverted, it said.
According to the Director General of Civil Aviation, no flights will take off from Thursday midnight for the next 24 hours from Bhubaneswar airport, while Kolkata airport will be out of bounds for flights between 9.30 pm of May 3 and 6 pm of May 4.
The Airport Authority of India (AAI) has issued alerts to all coastal airports, asking that all precautions and standard operating procedures be put into place immediately in view of Fani. "Situation will be monitored at the highest level. Airlines and all others to be fully ready," tweeted Civil Aviation Minister Suresh Prabhu. He also said that all authorities concerned are on high alert.