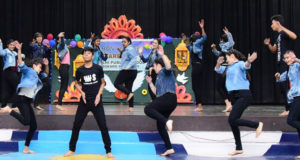 Bokaro: To bid adieu to the outgoing students of Class XII (2018-19 Batch) of DPS Bokaro, a grand farewell function was organized by the class XI students at the school campus on Friday.
The students showcased their talents with Jazzy songs and varieties of dances on popular Bollywood songs and western musical themes which enthralled more than a thousand students along with dozens of teachers who repeatedly cheered the youngsters.
The programme which was organised at Ashwaghosh Hall was festooned with gold shining stars and dazzling lights was set ablaze with a ramp walk by the youngsters followed by which the outgoing students came on the stage giving self-introduction who were later even posed questions by a team of judges regarding their experiences in school days running down their memory line and about their future planning in life.
While addressing the students on this occasion, Director and Principal, Dr. Hemlata S. Mohan wished them a bright and happy future. She reaffirmed her faith that the students will carry on the legacy of the school and make positive contributions to the society and country as well. She inspired the students with the school philosophy 'Respect and Responsibility'.
On this occasion Soham Mohanty was declared Master DPS, Ravi Prakash was adjudged Master Popular, Ayan and Vachaspati Gautam were declared Master Style Icon, Ashish Harshvardhan was given the Master Versatile Award while among the Girls, Stuti Taneja was declared Miss DPS, Rashi Bharti was adjudged Miss Popular,Harshpreet Kaur and Stuti Kumar were declared Miss Versatile and Shana Tasneem and Pushpita Boral was adjudged as Miss Style Icon.
In a nostalgic and reminiscent speech, school Head Boy Soham Mohanty and Head Girl Stuti Taneja recollected their best moments in the school as students, the various ups and downs and stressed on the importance of school life in shaping one's career. They thanked the teachers for their endearing efforts in shaping their destiny. The wonderful event ended with the distribution of mementos.