DPS Bokaro bags Runners Up Trophy in Extempore & Quiz Competition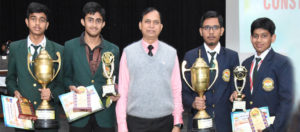 Bokaro: In two different events organised at two different venues of the state, the students of DPS Bokaro left their imprints in the Inter-School Extempore and Quiz competitions.
In the Inter-School Extempore Competition held under the banner of Dr. Radhakrishnan Sahodaya School Complex in Pentecostal Assembly School, out of 20 participating schools from the city, Tejaswini of class IX  and Anoushka Mukherjee of class XI bagged the second position in the Secondary and Senior Secondary categories respectively. The students were awarded a trophy and a certificate each.
The quiz team of DPS Bokaro also clinched the first runners up trophy in the Senior group of the state level of  'Bharat Ko Jano Pratiyogita' organized by Bharat Vikash Parishad. The competition was organized in both the Junior and Senior categories wherein 22 teams from different schools of the state participated.
Prince Kumar and Shashank Medireddy of class 9 battled their brains to finish first at the Zonal level and second at the State Level of the Quiz Competition whereas Sushmit Kumar Singh and Ayushman Dutta of class 8 secured the First position at the zonal level.
Principal, DPS Bokaro, A.S. Gangwar expressed his delight in the success of the students.