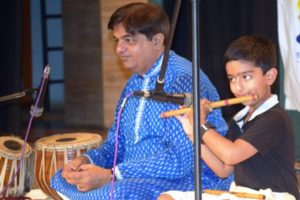 A musical session was organised at DPS Bokaro on the occasion of World Music Day, performed by internationally acclaimed flautist, Pandit Chetan Joshi along with his son Anjaynayee Joshi.
While addressing the students, Joshi stressed that in the new pedagogy where emotions play a role in creating space and bond between the teacher and the taught, music plays an important role in the emotional development of a child.
His address to the audience created a tranquil atmosphere and sense of belongingness in which he talked about the popular song, "Hind Desh ke Niwasi" and explained Unity in Diversity.
Joshi, who served as a senior music teacher for more than 24 years in DPS Bokaro, enthralled the audience by playing several ragas and his son mesmerised the crowd with his rendition of the popular song from the film, 'Titanic'.
DPS Bokaro, which has always been a pioneer in promoting and cultivating art and culture, giving special stress to vocal and instrumental music, has a team of dedicated teachers imparting training on various faculties of music like percussions, tabla, sitar, guitar, flute and various forms of Indian classical music.
Speaking on this occasion, all the three senior music teachers of the school, Mritunjay
Bhattacharya, Vicky Pathak and Nimesh Rathore stressed that without music life would have been mundane as music connects with the spiritual power and brings bliss in each one of our lives, irrespective of our beliefs.
Showering praise on their music mentor, Chetan Joshi, the teachers said, "The maestro always remained a source of inspiration, guide and guru for giving them the best atmosphere in school which keeps lingering till date, challenging us to give our best."
Giving her blessings on this occasion Dr. Hemlata S. Mohan, Director and Principal said that music is the essence of life which gives inner happiness and bliss.
"Music is the soul of life and an art form that provide contentment and hence it is an integral part of the curriculum", added Mohan.