DPS Bokaro conducts Online Hindi Recitation Competition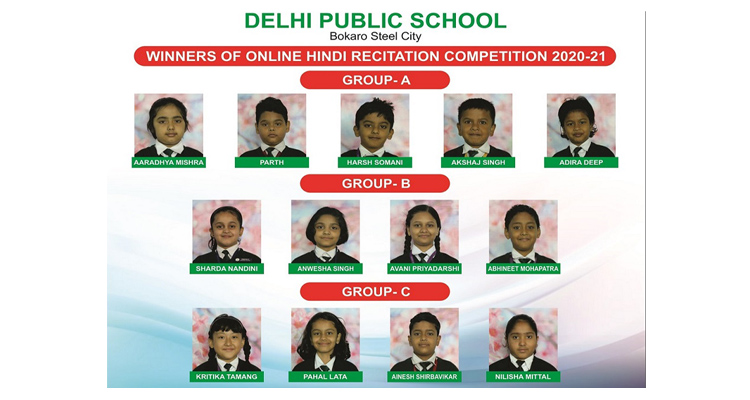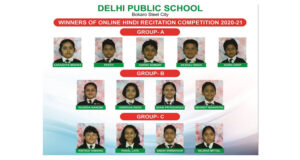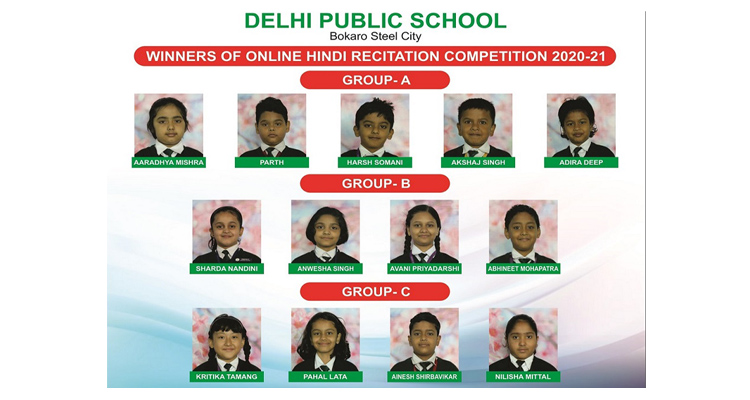 Bokaro: With an aim to explore the creative talent of the students of DPS Bokaro, an online Hindi Recitation Competition was organised for the students Class III, IV and V the results of which were declared on Wednesday.
Over a hundred students of the school eagerly participated in the online competition expressing their ingenious zeal. The students were divided into three groups Group A- Class III, Group B- Class IV and Group C- Class V according to their grades, informed school authority.
In Group A  Class III the theme was (Tyawahar) – Festival: Aaradhya Mishra (III/A) Parth (III/E) secured the first position, Harsh Somani (III/D), Akshaj Singh (III/B)  got the second spot while the third spot was bagged by Adira Deep (III/B).
While in Group: B Class IV the theme was  (Prakriti)- Nature: Sharda Nandini (IV/A) and Anwesha Singh (IV/D) got the first position; Avani Priyadarshi (IV/B), stood second while Abhineet Mohapatra (IV/B) came third.
In Group: C Class: V (Deshbhakti)- Patriotism: Kritika Tamang (V/E) bagged the first spot, Pahal Lata (V/B) got the second position while Ainesh Shirbavikar (V/D) and Nilisha Mittal (V/D) stood third.
A S Gangwar, Principal, DPS Bokaro, congratulated the winners and appreciated the students for their enthusiastic participation. "These kinds of competitions provide the students a platform full of opportunities where they not only get a chance to hone their talents but also builds confidence in them," he added.