DPS Bokaro contributes 4.3 lakhs to CM Relief Fund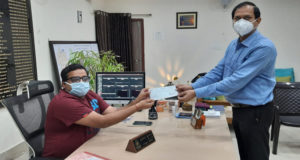 Bokaro: As a part of its social responsibility, DPS Bokaro has come forward to contribute a sum of Rs 4, 30,000 towards the CM's Relief Fund (Jharkhand) as a mark of commitment in the service of humanity. The contribution was made through cheque. The amount was collected by the school as the staff contributed a portion of their salary to help the underprivileged and join in the government with solidarity and resilience to fight against Corona, informed a school PR authority.
The cheque was handed over by Principal DPS Bokaro A. S. Gangwar on behalf of the school to the Deputy Commissioner, Bokaro Mukesh Kumar at his office on Wednesday.
DC Bokaro, Mukesh Kumar said apart from imparting quality education the school is also committed in its cause to serve humanity. The contribution made by the school in this hour of need is indeed commendable, he said.
"This is a very small step from our end to help the needy, but if everyone contributes, it will certainly be a big help for the government. In these trying times, I want to appeal to the people that we should help the government as much as we can," said Gangwar.
The battle against the COVID-19 can only be fought collectively. "Besides monetary assistance, I also request people to follow the government's order to stay indoors in letter and spirit. It's our duty to understand the situation and act responsibly," he added.