DPS Bokaro observes Foundation Day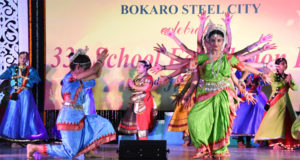 Bokaro: Amidst the constellation of luminaries from various fields including administration, technocrats, educationist, mentors and excited students DPS Bokaro celebrated its 33rd Foundation Day on Tuesday at the school campus. The occasion witnessed a cultural fiesta and felicitation ceremony for the outstanding performers.
The programme initiated with a beautiful dance presentation followed by the special prize distribution ceremony, which witnessed the excellence achieved by the meritorious, resolute and committed students in various scholastic and co-scholastic areas. At this juncture, the school magazine DIPS Reflection was released by the Chief Guest. He also distributed uniform to the students of class I of Deepansh Shiksha Kendra.
The magnificence of the day was made stronger by the presence of CEO Bokaro Steel Plant (BSL) P K Singh as the Chief Guest and Mukul Prasad, ED (P&A) BSL and Pro Vice Chairman DPS Bokaro and Dr. M S Tyagi, Founder Principal, DPS Bokaro as Guests of Honour.
Speaking on the occasion the CEO BSL branded DPS School as the jewel of the crown not only for the city, but also for Jharkhand which has its own image being seen on national and international educational canvas. "Anyone can single out DPS Bokaro for its quality education and the onus lies on the students to perform better," he added.
Presenting the realistic scenario of the contemporary education system the CEO insisted students to acquire quality education besides being creative and innovative.
Founder, Principal Dr. Tyagi said, "The school must instill values like respect and responsibility so that students learn to be receptive to the changing needs of the society and evolve as sensitive individuals."
Addressing the gathering A. S. Gangwar, Principal DPS Bokaro said, "We are living in times where the pace of events is fast indeed. Today's latest becomes obsolete tomorrow. We must strive to be equipped for the changes preparing our children to be thinkers, enquirers, articulate and confident to compete with the best brains."