DPS Bokaro (Primary Wing) appointed Student Council Office Bearers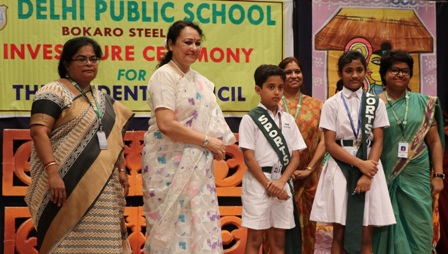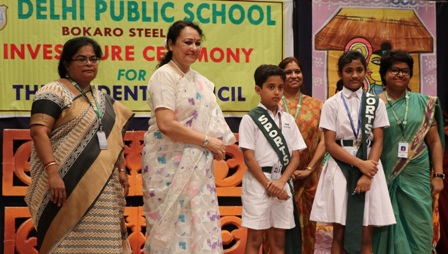 In a move to inculcate leadership quality among the students, DPS Bokaro (Primary Wing) today appointed Student Council Office Bearers and conferred badges and sashes to the elected students in the INVESTITURE CEREMONY held at the Sector 5 School campus held on 25 th June 2018.
For the session 2018-19, Antara (Class 5) was appointed the Head Girl and Aarav Yash (Class 5) and Harshit Kumar Jha (Class 5) were appointed Head Boys. Anushka Arya (class 4) and Nayan Kumar (Class 4) were elected Vice Head Girl and Vice Head Boy respectively.
Director & Principal, DPS, Bokaro, Dr. Hemlata S Mohan, Cynosure of the ceremony, Rashmi Sinha, Principal In charge, DPS, Chas, Chief Guest of the occasion congratulated the students and showered blessings on them. Headmistress, P Shailaja Jayakumar along with teachers, students and the office holders graced the occasion. Speaking on the occasion Chief Guest, Rashmi Sinha informed the students about leadership. She said leadership is not about getting power rather it means empowerment of others. She added that leadership is all about caring and sharing. It is about helping others grow. She congratulated and blessed all appointees.
In a motivating speech, Dr. Mohan inspired the council members and students to rise up to the responsibilities required by their posts. She said, "The students today are going to become
the citizens tomorrow and we believe every student has the potential to emerge as a leader and be a service to the society".
After a short cultural presentation, the Students Council was handed over their badges and sashes by the chief guest along with the Director and Principal. This was followed by the swearing-in ceremony administered by the Manager Discipline Mahima Singh.