DPS Bokaro shines in State Junior Swimming Championship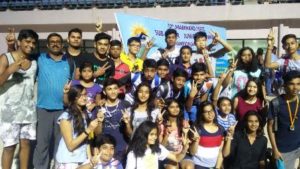 DPS, Bokaro achieved a covetable feat by achieving the maximum number of medals in the 10th Junior State Junior Swimming Inter District Championship organized by Jharkhand 1Swimming Association (JSA) at Khelgaon, Aquatic Stadium, Ranchi. 
A total of 250 participants from 17 districts of the state participated in the Mega Event of which the swimmers of Bokaro district won 35 medals in various categories consisting of one gold medal, 22 silver and 12 bronze medals. Of the 26 swimmers who represented Bokaro district 24 were from DPS Bokaro, school authority informed.
Bokaro district was declared the Overall Runners-Up (Group I-II) Juniors Under 17 and 14 Boys and Girls categories respectively while Jamshedpur became the overall Champion. 
In the individual event, Sahil Shikhar of DPS, Bokaro gave the best performance with one Gold in 400 meters. Free Style, one Silver Medal in 200 meters. FreeStyle and one Silver Medal in 100 meters. Back Stroke.
Dr. Hemlata S. Mohan, the Director and Principal of DPS Bokaro expressed her happiness at the outstanding performance of the students and hoped that they continue doing their best upcoming swimming competitions not only on State Level but also on the National Level.