DPS Bokaro student Varun tops with 99.20%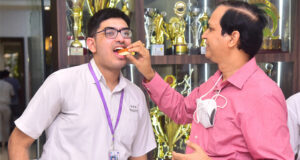 Bokaro: Delhi Public School Bokaro Steel City students engraved their names in the records of the school with 78 students securing more than 95% marks while 240 students secured more than 90 % in All India Senior School Certificate Examination (AISSCE) 2021.
Varun Tandon claimed the top honour with a whopping 99.20 % in Science stream while Khushi Dalmia topped in the Commerce stream with 97.8 %.
Out of 469 students who appeared in the exam this year, 78 students secured 95% and above, 240 students secured 90% and above, 459 students secured 80% and above and 467 students secured 75% and above. In this examination 100 percent of students secured more than 70 %. The pass percentage is 100 % with the School Average Aggregate being 90.10%, school authority informed.
The ten toppers in Science Stream are : Varun Tandon (99.20), Insha Raza (99.00), Amisha Singh (98.8), Om Sandilya (98.8), Rahul Dey (98.6), Anannya Srivastava (98.6), Atahar Kaif (98.2), Anurag Ranjan (97.8), Niranjan Verma (97.8), Vipul Vaibhaw (97.8), Aditya Ray Mishra (97.8), Harsh Raj (97.8), Sparshika Mishra (97.8), Supriya Mahato (97.8), Ayush Kumar (97.6), Utsav Shekhar (97.6), Anubhuti Jha (97.6), Harshit Mania (97.4), Saurabh Raj (97.4), Vishal (97.4), Harsh Raj (97.2), Goutam Kumar Shrivastava (97.2), Roshan Kumar Singh (97.0), Dev Jyoti (97.0), Aditi Rani (97.0), Rashid Hussain (97.0), informed school authority.
In the Commerce Stream, Khushi Dalmia topped with 97.80%. The other toppers are Shubhangi Priyam with 97.20%, Ayush Vardhan with 95.60%, Arjun Brij and Tarun Kedia with 94.20% whereas Ayush Kumar and Atiya Shahab secured 93.60%.
Principal, DPS Bokaro, A. S. Gangwar said that despite online classes, our students have done well. Students were worried that CBSE had to drop board exams this year due to the surge in COVID-19 cases but an alternative was formulated based on the continuous and comprehensive performance of the students.
Reflecting upon the success of the students, the Principal said, "It is the collaborative, ambitious and committed team of teachers driven by a sense of moral purpose, the support of the parents and definitely the dedication and perseverance of the students that has helped us achieve this result."