DPS Bokaro students mesmerise guests at Sangam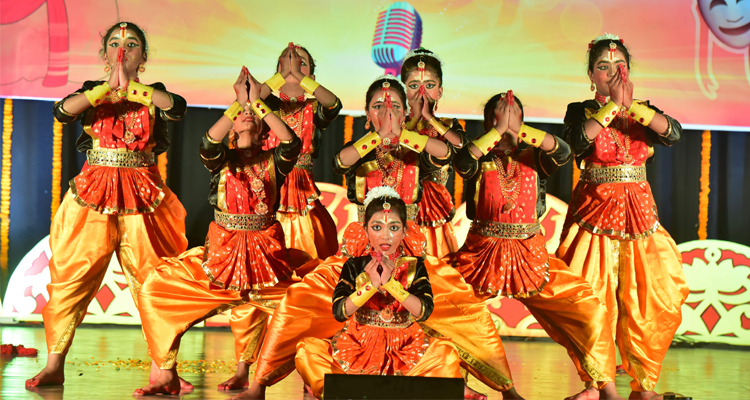 JNS: Sangam – The Biennial House Function of DPS Bokaro unfurled a string of mesmerizing performances. The Campus reverberated with excitement as the students of Chenab, Sutlej and Jhelum geared up to showcase their talents on stage. The theme of the event was "Vividhata mein Ekta".
Dr. Bibhuti Bhushan Karunamay, Chief Medical Officer (Medical and Health Services), Bokaro General Hospital, was the Chief Guest of the event. Dr. Celina Tudu also graced the occasion. The School annual magazine 'DIPS Reflection' was released on this occasion. The guest was welcomed with a sapling in line with the Go Green motto of the school. This was followed by lighting of the lamp. The school choir presented a mellifluous welcome song followed by school song. Chenab House Wardens Tanushree Ghosh and Nilanjana Chatterjee welcomed the august gathering.
Portraying a wide array of cultural extravaganza; Sangam enthralled the audience. The orchestral presentation with a perfect sync of rhythm and harmony left the audience craving more. The dance presentations on Ramnavami, Krishna Janmashtami and the Fusion dance 'Warmth of the Sun' filled the auditorium with unabated applause. The Sufi song with a perfect blend of resonance and passion transported the audience to the magical land of Sufi saints. Sutlej House Wardens Ravi Prakash Dwivedi and Bimla Bisht apprised the audience with the achievements of Chenab, Sutlej and Jhelum Houses.
Drawing curtains to the biennial house function, Jhelum House Wardens Priti Mishra and Archana Roy Sharma proposed the Vote of Thanks.
Addressing the gathering the Chief Guest said that the children of today are the future of tomorrow so we must ensure that they are given the opportunity to explore and learn at their own pace. He lauded the efforts of the school in providing a joyful learning environment.
Principal, DPS Bokaro, A.S. Gangwar encapsulated the achievements of the school and urged the parents to stay active in their involvement with the progress of their children in this age of technology. He urged the parents to keep an eye on their ward's usage of social media so that children are not trapped and are safe.