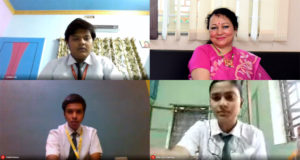 Chas: Reaching the new heights and achievements in the field of the education sector, Delhi Public School, Chas, a day cum residential school with an aim to nurture global citizens by providing holistic education and encouraging the idea of "Service before Self" conducted an orientation programme for the first batch of Class XI on Monday.
With a commendable maiden CBSE Class X results, DPS Chas is now ready to venture out into providing education to Senior Secondary. The orientation ceremony was conducted on 27th July 2020 through video conferencing.
Speaking on the occasion, Dr Hemlata S Mohan, Chief Mentor, DPS Chas said that the young and enthusiastic team of teachers are committed to provide a learning environment that is intellectually engaging and deliver through practices, that foster Critical & Creative thinking. DPS Chas had conducted a webinar taking science and commerce stream students as a major consideration which provided proper guidance and direction to the upcoming endeavours of the nation and making them focused on application and practical based learning. She said that every student needs to work hard to get his/her desired aim. She advised the students to take various precautions required in the COVID era. She said every child is unique and emphasised on the significance of the three Hs- Head, Heart & Hand. She also told that parents have a very significant intense role reversal to play. She also guided students that a well-mannered human being pays respect to his/her parents, teachers and nation.
Welcoming the new students of Class XI, Shailaja Jayakumar, Officiating Principal, DPS Chas said that we believe that education is not only about books or syllabi but also learning, practical applications, ethics, life skills, traditions, culture, interpersonal skills, and self-realization. She said that with curiosity, connectivity and commitment one can be successful. Students should develop inner strength through yoga, physical exercise and imbibe the value of respect.
Co-host Vivek Gupta and Shilpi Parashar along with the technical team showcased the school Vision, Mission, Infrastructure, Guest Speakers and Core Campaigns. The vote of thanks was given by Miss Shilpi.