DPS Chas organises Orientation programme for parents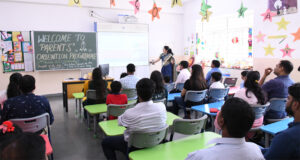 JNS: With an aim to create 'Global Citizen for Future' and to impart holistic education encouraging the idea of "Service before Self" DPS Chas organised a Parents' Orientation Programme— "Anusthapan" on campus for the batch of Classes Pre- Nur to IX on Thursday.
In her message from Delhi, Dr Hemlata S Mohan, Chief Mentor, DPS Chas said that the young and enthusiastic team of teachers are committed to provide a continuous learning environment. The teachers foster critical & creative thinking. She conveyed that every student needs to work hard to achieve their desired goal. She stressed on the fact that every child is unique and emphasised on the significance of the three Hs- Head, Heart & Hand. She also told that parents have a very significant role in raising their ward. She advised students that a well-mannered human being pays respect to his/her parents, teachers and nation.
Welcoming the new parents, Deepali Bhuskute – Officiating Principal, DPS Chas said that Siksha is an awareness that inculcates knowledge, confidence and valour to deal with the hardships of life. The qualities house only those personalities who are driven with dedication seeking excellence in life. In her concluding remark she conveyed that with proper parenting the purpose of making better human can be achieved. She was expectant for a long-term association and cooperation from the parents. She emphasised that with curiosity, connectivity and commitment one can be successful. Students should develop inner strength through yoga, physical exercise and imbibe value of respect.
Co-host Vivek Gupta and Arti Sharma showcased the School's Vision, Mission, and Core Campaigns. Further the teachers gave an insight to the parents helping them understand and comprehend the vision and mission which the school thrives for.