DPS Chas organises Sports Workshop on Olympic Education in India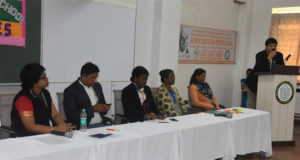 JNS: A two days sports workshop for the expedition of Olympic values and Olympic education system in India concluded at DPS Chas in Bokaro district on Sunday.
Aiming to introduce a values-based sporting culture in schools the workshop was organised by Indian Pierre Coubertin Association (IPCA) akin to its parent body International Pierre De Coubertin Committee (CIPC), is headed by former players of Jharkhand, informed Balaji Natarajan PRO DPS Chas.
Speaking on the occasion, Dilip Tirkey the President of IPCA opined that sports correlated with education can produce good citizens. He stressed upon the need of sportsman spirit.
Jaydeep Sarkar the Treasurer of IPCA highlighted the evils of sports and how it defeats the true spirit of the sports. He also urged the participants to follow the morals and values as envisaged by Sir Pierre Coubertin and also his thoughts in relation to the Olympics. While Dr. Umakant Singh shared knowledge about Olympics games history and its values and also focussed on Teamwork in Sports through several interesting activities and games during the workshop.
Sarojini Lakra the General Secretary IPCA apprised the audience about the aims, objectives and total working system of IPCA through power point presentation. She reiterated that sports and games are the essentials to keep a healthy mind in a healthy body.
Different issues like health value, performance-based sports, sportsman spirit were the key factors of which solutions were sought by discussion during two days workshop.
Beside others, Vincinsiya the State Co-ordinator IPCA, Rashmi Sinha Principal-in-charge of DPS Chas, sports teacher and student from DPS Bokaro, Chinmaya Vidyalaya, Sree Ayyappa School, DAV, Kendriya Vidyalaya, Holy Cross, Adarsh Vidya Mandir and from other schools have participated in this workshop.