Dr Hemlata bags prestigious Sarojini Naidu International Award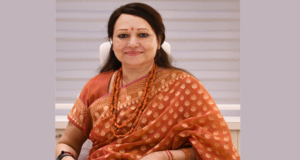 Bokaro: Dr. Hemlata S Mohan, former Chairperson of State Women Commission has been conferred upon Sarojini Naidu International Award.
She is the Chief Mentor of DPS Chas and presently serving as Chairperson, Centre for Cultural Resources and Training (CCRT), Delhi; was bestowed with the award with full pride and honour at the Noida situated Asian Academy of Arts in the Film City at the 6th Global Literary Festival 2020.
She has been chosen for this award among a hundred other recipients from 15 countries of the world who are working for the upliftment and empowerment of women to bring a major change in society and social status.
The award was presented by nationally acclaimed journalist Dr. Sandip Marwah and Ashok Tyagi, General Secretary of the International Chamber of Media and Entertainment Industry (ICMEI) through a virtual platform.
This organisation selects women for this coveted award who work for upliftment and empowerment for women.
Overwhelmed with the honour Dr. Mohan said, "I feel highly revered and contented that now the women have emancipated to become independent, educated and progressive. They have retrieved for themselves a good social status scaling over all the barriers raised by the society to make a positive transformation and to awaken the masses. Women are diligently involved in all the fields today and with their progressive ideology they work for the betterment to make India a progressive state."
It's worth mentioning here that she has earlier received CBSE Teacher Award from Dr. Murli Manohar, the former Minister of Human Resource Development, in 2002. The Prestigious National Teacher Award from the former President Dr. A.P.J. Abdul Kalam in 2004, Gandhi Samman Award in the year 2009 from Mahatma Gandhi Social Welfare Society, Lifetime Achievement Award from Mridula Sinha, the former Governor of Goa in National Education Summit 2017 and she was recognized amongst the nation's 25 strongest women by Fame India in 2020.
Officiating Principal of DPS Chas P Shailaja Jayakumar expressed her happiness over Dr. Mohan's honor. She said, "Madam has been an apostle of change in the society thereby empowering women. It is truly a proud moment for the school".