DVC plays a crucial role in making Jharkhand affluent: Mahato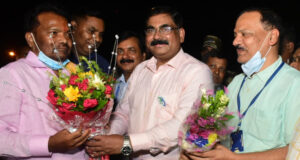 JNS: Bokaro: Damodar Valley Corporation (DVC) has played a crucial role in making Jharkhand affluent. The state government has pledged its continued support for DVC's aspirations to reach greater heights, said Jagarnath Mahato, Education Minister Jharkhand. He was delivering a speech at the Chandrapura football ground late on Tuesday evening to mark the 75th anniversary of the DVC's foundation.
The minister appreciated the work of DVC Chairman RN Singh and Chandrapura Thermal Power Station (CTPS) Chief Engineer Project Head Ajay Kumar Dutta. Working with them, we can give a boost to the institution as well as society, he said.
Speaking on the occasion, Dutta said that we all have to work together and unitedly to take DVC to greater heights. For this, we all need to take a pledge. He wished him the best for the future.
Welcoming Minister Dutta and Chief Engineer Sunil Kumar Pandey presented a shawl, memento, and flowers. The national anthem was performed by teacher Manorama Singh, and a welcome song and a patriotic song were performed by Kendriya Vidyalaya students. Short plays, songs, solo music, and youth theatre based on the tenure of DVC under the leadership of teacher Pradeep Srivastava from the beginning of the school until the present day were also performed. An Elvis-themed short film was shown at the performance, among other things. The program was conducted by the manager Anil Kumar Singh, Pradeep Srivastava and Sarvjat Singh.
Besides others,  Zilla Parishad Neetu Singh, Deputy Chief Engineer NP Mandal, PC Sahu, Additional Director Dilip Kumar, Ajay Kumar Singh, Ravindra Kumar Akshay Kumar, AmarendraKumar Dubey, Satyendra Kumar Singh, Amarendra Kumar Singh, Anil Kumar Gupta, were present there.