ED arrests Singhal's CA Suman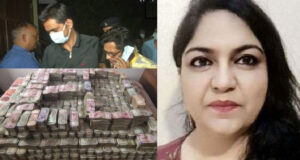 JNS: In a probe of money laundering case involving the alleged diversion of MGNREGA funds the Enforcement Directorate (ED) arrested Suman Kumar, a chartered accountant (CA) of Pooja Singhal, Mining Secretary, Jharkhand on Saturday.
On Friday, ED had recovered Rs 19.31 crore and few incriminating documents from the premises of Suman.
The ED had on Friday morning conducted raids at more than 18 places including Ranchi in Jharkhand, Muzaffarpur, Saharsa, , Kolkata, Chandigarh, Noida, Mumbai, and in several parts of NCR, with Faridabad and Gurugram; ED also seized various documents regarding assets and properties allegedly linked to Singhal.
The investigation is linked to a case filed five years ago, according to a 2017 FIR filed by the Anti-Corruption Bureau. Between 2008 and 2011, the ACB filed a case against Ram Binod Prasad Sinha, a junior engineer, for allegedly embezzling Rs 18.06 crore in public funds. In 2020, the ED seized Sinha's assets worth over Rs 4.8 crore and filed two prosecution complaints (charge sheets) against him.
Sinha had alleged that he used to pay 5% of the cost of an MGNREGA project as commission to his engineering superiors and 5% to the administrative side, which included the DC's office in Khunti. His statement was recorded under the Prevention of Money Laundering Act, 2002.
In a statement, Sinha further stated that no commission was paid directly to the DC, and that "it was taken care of from the 5% commission allocated for district administration." Singhal was acting DC of Khunti district at the time, he said.
Meanwhile, no action was taken against Sinha during the inquiry in Singhal's stint as DC, alleged, ED.
Notably, Singhal, a 2000-batch Jharkhand-cadre IAS officer has held several top positions, from agriculture secretary in the previous BJP government to tourism and industries secretary in the current JMM-led government. Her husband, Abhishek Jha, is the managing director of Pulse Sanjeevani Healthcare Private Hospital.
Notably, Singhal, a Jharkhand-cadre IAS officer from the 2000 batch, has held numerous key positions, in the previous and in the present government. Abhishek Jha, her spouse, is the managing director of Pulse Sanjeevani Healthcare Private Hospital.