Eid celebrated with religious fervour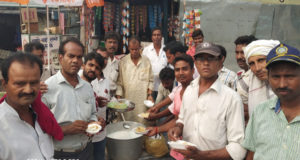 JNS: Amidst heightened vigil and security 'Eid' celebrated with great fervour and gaiety across Dhanbad and Bokaro on Wednesday. No untoward incidents were reported in the twin districts, the festivals celebrated in harmony.
Amidst a big celebration across the city, Surender Kumar alias (Pahalwan), a roadside tea vendor, follower of Hindu religion celebrated 'Eid' with distributing 'Sewai', Laddu and tea among poor and passerby.
All festival teaches us to feel our oneness with all creation and we should follow the path of love, purity and forgiveness; no maters that we are the follower of different religions, said Surender.
"We all are the son of one almighty, thus we are brothers", he added.
The Muslim religion's followers celebrated 'Eid' which signifies the successful completion of the sacred month of Ramadan (Ramzan). Dressed in their best thousands of devotees assemble at the mosques and prayer grounds in the coal and steel belt to offer the special prayers which performed in unison; later they exchanged good wishes.
Elders gave 'Eidee' to the children.
People visited relatives and enjoyed special dishes, particularly 'sewayian', made of vermicelli and different varieties of biryani and kebabs.
With the spirit of thanksgiving and jubilation on the first day of the 10th month of the
Muslim lunar calendar 'Eid' marks the completion of an act of duty and devotion, said Murshid a Shopkeeper at City Centre Sector- 4 in Bokaro Steel City.
"Eid teaches the lesson that real happiness arises from performing one's duty and making sacrifices for a noble objective," he added.
The practice of fasting during the month of Ramadan is to sublimates the inner self of man and inculcates discernment of the pangs and hardships which the poor and needy face. "This feeling is awakened in all those, whether rich or poor, young or old, who observe fasting," he added.
There are multiple results of fasting in the shape of vigorous duties, moral and spiritual self-discipline and austerity. This reward equips a man to swim in the rough seas of life, said Samsher.