Eleven Brothers defeats HR and Finance Department, wins Cricket Tournament by 23 runs
by Ashis Sinha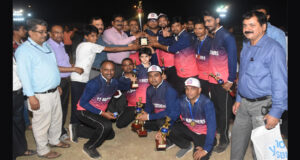 JNS: Five day inter-departmental day-night cricket tournament concluded with a bang on Wednesday. Eleven Brothers' won the tournament by defeating HR and Finance Department by 23 runs.
The tournament was organized by the DVC management at the football ground. In the first innings, the team of Eleven Brothers scored 122 runs for the loss of 7 wickets, while the team of Human Resource and Finance Department could achieve only 99 for the loss of 6 wickets, informed Akshay Kumar, PRO, CTPS.
"Amardeep was adjudged the Man of the Match," he added.
Ajay Kumar Dutta, Chief Engineer and Head of the Project CTPS, remarked that the tournament was carried out in accordance with the original plan and that the members of the organising committee deserved credit for their efforts. In the future, the DVC will continue to fulfill this role. This has been anticipated and is part of the strategy.
We will continue to complete this work gradually and successfully carry out such sporting events and other social work.
Sunil Kumar Pandey, the chief engineer of O&M, lauded the tournament, its organisers, and players. He added, the management will always support social and sports work.
Shields were awarded by the CTPS officials to the winning and runner-up teams. On this occasion, all the players and organisers were also honoured with mementoes.
Jaswinder Singh and Subash Karmakar were in-charge of referees during the tournament, while Pradeep Kumar Srivastava, and Sarvjit Singh and Sameer Akhori did the commentary.
Besides others, Deputy Chief Engineer Satyendra Kumar Sharma, Kamta Prasad, Deputy General Manager Administration TT Das, Deputy General Manager Finance Rakesh Ranjan, Additional Director Dilip Kumar, Superintending Engineer Dilip Kumar, Rajiv Ranjan Singh, Rajiv Kumar, Pramod Kumar Jha, Subhash Dubey, MK Jha, Sameer Akhouri, MK Singh, Dhurv Kumar, Akshay Kumar, Amarendra Kumar, Anil Gupta, Ram Kumar Dubey, Ajay Kumar Singh were also present on occasion.