ESL Archery Academy shines in District Archery Tournament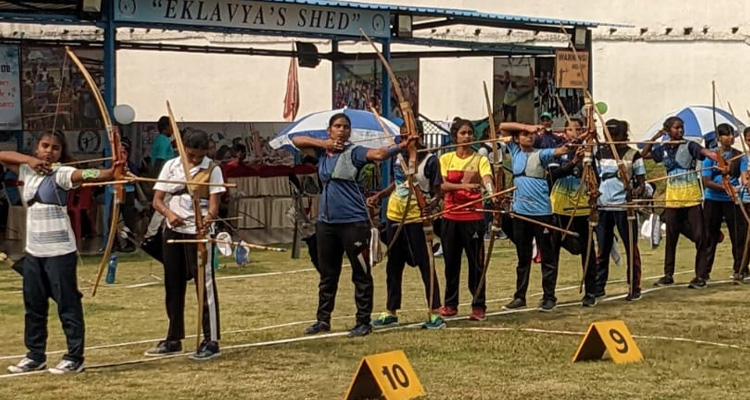 Bokaro | JNS:  ESL CSR team organised a District Archery tournament for young archers at Vedanta ESL Archery Academy. Over 60 players competed in this tournament, exhibiting their diverse skill-set on the ground.
The sports event was graced by Markash Hembrom (DSO, Bokaro), Anil Kumar (President, Bokaro District Archery Association), Subhas Rajak (Senior Manager, SAIL) along with the coaches and families of the participating players. The inaugural speech was given by the chief guest of the event, Ashish Gupta (CEO, ESL) who addressed the crowd, saying, "One must always play to win. If you think that winning and losing are equivalent, then you will not give your 100% to the game." He kick-started the event by shooting the first arrow at the target.
The tournament was divided into three age categories: Under-9, Under-14, and Under-17. Archers from Vedanta ESL Archery Academy, SAIL Day Boarding, KGBV Chandankiyari, and High School Chandankiyari competed in various categories.
The award ceremony was graced by the COO of ESL, Mr Ravish Sharma, who put a much-required emphasis on the importance of teamwork – be it in sports or life. He also touched upon the aspects of remaining focused on the goals and working hard towards it. Vedanta ESL Archery Academy grabbed 36 medals, Day Boarding Chandankiyari 23 medals, KGBV Chandankiyari 8 medals, SAIL Day Boarding and High School Chandankiyari 4 medals each. ESL Archery Academy was declared the overall champion whereas Day Boarding Chandankiyari, which grabbed the prize last year, became the runner-up this time.
ESL Steel Limited's initiatives happen to uplift the morale within the community and encourage the community members to show up and participate. Such events, being a part of Vedanta ESL's CSR programmes, aim to succeed in bringing people together and honouring the local talent that the state of Jharkhand has to offer.