ESL bags Greentech Foundation Awards for contribution to promotion of education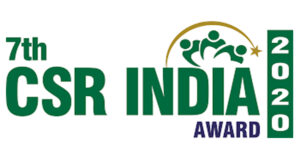 Ashis Sinha I Bokaro: Vedanta-Electrosteel (ESL) has won the seventh CSR India Awards 2020 by Greentech Foundation, for their valuable contribution under the Promotion of Education sector for Project PRERNA.
Ashish Ranjan, Head – Community Relations accepted the award on the behalf of ESL, during a virtual ceremony. He was along with Rakesh Kumar Mishra (Project Lead) and Nidhi Chavada, Senior Officer, CSR.
The awards that were presented for demonstrating the highest level of commitment to CSR (Corporate Social Responsibility) were graced by Chief Guest Deepak Mishra, Ex-CJI, informed PR official of ESL.
It was aimed to recognize exemplary operations, systems, and the evidence of their impact on the upliftment of society. Greentech Foundation Awards serve as a catalyst for understanding the intrinsic value of CSR in business excellence and sustainability, said the official.
Speaking on the occasion,  Ranjan said, "ESL is making rapid progress in community development through its continuous sustainable efforts. The appreciation in the form of the award is overwhelming because we at ESL take it as our duty and responsibility to work for the well-being of the society and community."
Priyanka Shrivastav from Greentech Foundation said, we are honoured to present the CSR India Awards 2020 to Vedanta ESL for their significant impact on community development. "ESL met all the CSR standards set by Greentech Foundation. Their contribution to the field of education has been tremendous specifically their 'Prerna centre' initiative for community building. All their efforts and initiatives make them worthy of the recognition," he added.
ESL is a leading manufacturer of Steel products in Siyaljori village at Bokaro district of Jharkhand. It has 1.5 million tonnes per annum (MTPA) Greenfield integrated steel plant that produces pig iron, billets, TMT bars, wire rods, and ductile iron pipes. The plant works in sync with the prescribed environmental standards while bringing international expertise and solutions from reputed manufacturers to offer world-class services and products.