ESL CEO inaugurates Safety Park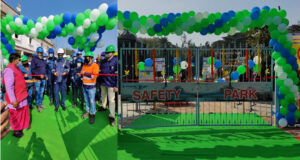 JNS I Bokaro: Aiming to raise awareness about safety among the employees, a Safety Park was inaugurated at the industrial complex at Vedanta ESL Steel Limited on Tuesday.
N. L. Vhatte, CEO of ESL, inaugurated the newly constructed 'Security Park,' which features a variety of different safety equipment models. The park's primary goal is to raise awareness about workplace safety among the company's employees, informed a Public Relations official of ESL.
Speaking on the occasion, Vhatte said, ESL always aims to fulfill its business goals by providing a safe and clean environment to its employees and contributing to the welfare of its society and the inclusive growth of the country.
"With the help of this security park, we can fulfill our goal of 'zero harm' by making our employees aware of all kinds of safety," he added.
He said that we at ESL are always on the lookout for sustainability, the safety of its employees, and the protection of the environment.
In the coming days, ESL aims to improve the security and environment, for which ESL is working very seriously on its security plans. Under these two days, safety training has been made mandatory for all new employees and business partners; AI-based cameras and sensor devices had been installed for vigilance at critical places, he said.
Though the health risks of employees and business partners are being monitored,
PPE Bank has been set up to issue PPE to employees and business partners. Similarly, ESL is continuously working on more such projects to provide a safe working environment to its employees and business partners, said Vhatte.