ESL planted 2020 saplings on World Environment Day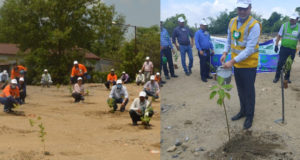 Bokaro: Vedanta Electrosteel (ESL) has gone for a new step ahead to protect the environment. On the World Environment Day ESL has taken this mission upon itself to increase the green cover in the periphery in a bid to make the environment clean and green.
On this move, a tree plantation drive was conducted and saplings of the various plants were placed in the ground. The CEO of the company, Pankaj Malhan, along with the top management officials and all the employees' together, planted around 2020 saplings inside the plant premises.
Speaking on the occasion Malhan said, "ESL works on 'zero loss' and 'zero waste' policy. Keeping this objective in mind, without harming the environment, we will keep moving forward; preserving biodiversity is very important for our environment and the coming generation. We all have to protect the environment at our own level."
Malhan urges the youths to create awareness among the people about the factors that are causing environmental pollution daily and also to play a positive role in making it clean and green.
Sandeep Acharya, Health Safety Environment Officer of the company said, "Biodiversity is very important for our future generations. There are five major threats that affect biodiversity— exploitation of natural resources, climate change, invasive species, pollution and the environment – by avoiding these threats and conserving water, fuel and energy we can save our natural resources."
World Environment Day is the most important day of the United Nations to encourage worldwide awareness and action to protect our environment. All the employees were thanked at the end of the program for understanding its importance and for taking part in the program.
On this eve all ESL employees took a pledge that they will remain devoted to environmental protection with full devotion. Everyone pledged to take care of environmental protection not only in the plant but also in the houses.
In the context of the world environment, employees and their children participated in various competitions, for which prizes were distributed among the victorious employees and children. In order to reduce the use of plastics, cloth and jute bags were distributed among all on the occasion, informed an ESL Public Relation official.