Fake Rs 2000 notes from Pakistan enters in India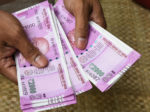 Since after three months of  demonetisation of Rs. 500 and Rs 1000 (on 8 November 2015) fake Rs 2000 notes entered into India from Pakistan, according to The Indian Express report. The money is being pumped into the country via the permeable India-Bangladesh border by the Pakistan-based counterfeiters. The shocking details were surfaced following recent arrests and seizures made by National Investigation Agency (NIA) and Border Security Force (BSF), the report says.
Recently, A 26-year-old man, who hails from Malda in West Bengal, was arrested in Murshidabad for carrying 40 fake notes of Rs 2,000 denomination. During the interrogation, the accused revealed that fake notes had been printed in Pakistan, allegedly with the help of the Inter Services Intelligence (ISI). It has been learned that smugglers were required to pay Rs 400-600 in genuine currency for each fake Rs 2,000 note, depending on the quality, the report says.