Gadkari address public meeting in Bokaro, Giridih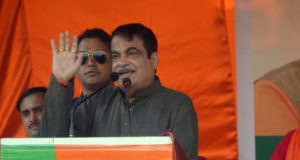 JNS: Surface and Transport Minister Nitin Gadkari urged mass to help to form a BJP government at the centre. Addressing an election rally at Sector 9 in Bokaro Steel City Gadkari said, please think well and decide before casting your votes, whether you want a "majboor" or a "majboot" Prime Minister.
This election presents a choice between a leadership that is helpless before terrorism or a strong (like Prime Minister Narendra Modi), he said.
After losing three wars with India, frustrated Pakistan has now adopted the path terrorism and openly abetting terror, he said. "Terrorism is a global menace and terror must be crushed, he said adding "Our government has demonstrated that it has the resolve to take decisive action.".
If Pakistan will not prevent to abetting terror and terrorism, we will stop our share of water from Indus network of rivers to flow into Pakistan, he said.
Speaking in the rally Gadkari lashed out at the Congress party over its promise to fight poverty if it regains power after the Lok Sabha polls.
He alleged that Congress party is the main cause of poverty in the country. They were never serious about eradicating poverty when it was in power for 60 years. The Congress kept people poor due to its wrong policies and visionless and corrupt governance, he said.
Gadkari said: the previous governments of Congress did not introduce any scheme to develop agriculture and villages. Former Prime Ministers Jawaharlal Nehru, Indira Gandhi and Rajiv Gandhi, Manmohan Singh and former Congress Chief Sonia Gandhi was unable to end poverty than how would Rahul Gandhi be able to do so.
BJP leader said, Rahul has promised that if his party gets a chance to form the next government, he will launch a new scheme 'NYAY' under which five crore families will get annual income support Rs 72,000.
"Rahul has been highlighting this scheme in his election rallies and alleging that this will be the final assaults against poverty," he added.
The rally was held in favour of BJP's and its ally candidates for Giridih and Dhanbad Lok Sabha seats. Gadkari again urged voters to help in forming a BJP government in the center. BJP is committed for holistic development and inclusive growth, he said.
"We are bringing a new mode of transport, including flying cable and double-decker buses, for the hilly states. Besides we are also constructing all-weather roads," he said.