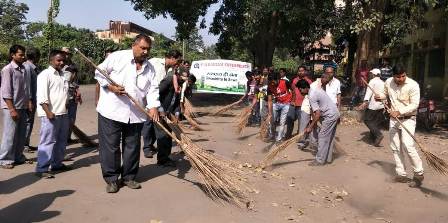 Aiming to commemorate the birth anniversary of Mahatma Gandhi and Lal Bahadur Shastri and in the observance of the Indian government's Swachh Bharat Abhiyan Gautam Enterprises conducted a cleanness drive inside the Bokaro Steel Plant on Tuesday.
A team, led by Binju Pathak, Pankaj Kumar, Shrawan Kumar Jha, Santosh Jha, Anil Kumar, Munna Kumar, Bijay Kumar came out with brooms from their office and cleaned the area inside the plant. The team also cleaned the nearby areas spreading the message 'Avoid Polythene Save Earth'.
Later over 100 workers from other shops (departments) participated in the drive which made it a grand success. A pledge was also taken by all to continue the cleanliness drive for a better living, said Pankaj Manager of the firm.