"Howdy, Modi!" rocks the world; India's big show of strength on world stage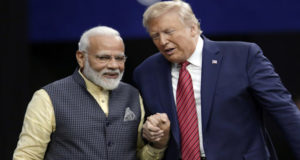 JNS/ Houston: "Howdy, Modi!" rocked the world, the event was organised by the Indian-American community to honour Prime Minister Narendra Modi, who is visiting the United States for a week.
US President Donald Trump has said that 'USA Loves India' and described the grand 'Howdy Modi' ceremony as 'incomparable'. Prime Minister Narendra Modi in his tweet thanked Houston for his amazing affection.
Trump attached the tweet saying that 'USA Loves India'.
On the other hand, Foreign Ministry spokesman Ravish Kumar shared a video of a huge crowd of people at the NRG Stadium on Twitter, which he attached, he wrote "incomparable".
Earlier, President Donald Trump shared the stage with Prime Minister Narendra Modi at the 'Howdy Modi' event held here, where there was very good bonding between the two leaders.
The US President said that we intend to complete several new defence deals soon. Work is underway on many of these. The US and India are establishing a 'strong defence partnership' and both sides are ready to finalize new defence deals soon. In the presence of 50,000 Indian-Americans at the NRG Stadium, President Trump said that US defense sales in India have reached $ 18 billion over the past decade.
Trump said that we are building the US space force and working closely with India to join hands in space cooperation.
In November, India and the United States will demonstrate the progress of our Defence Agreement, under which the military exercise 'Tiger Triumph' will be held. This is a great name, Very nice name, he said adding that 'both sides are working to 'make their nations richer than ever'.
'Howdy, Modi' — a rally organised in Houston, Texas was marked by Donald Trump as a 'profoundly historic event', that was reportedly attended by over 50,000 people. Meanwhile, opposition leaders and activists called it an attempt to draw attention to Modi's endorsement of Trump's presidential campaign. At the event Modi hit out at Pakistan for its support to terrorism and said India's decision to abolish Article 370 has caused trouble to those who cannot handle their country.
Amidst loud cheers from fans, PM Modi was all praise for Trump who will be contesting presidential elections again. Clasping hands with Trump, Modi also made a strong pitch for the US president's re-election, saying "Abki baar, Trump sarkar".
Home Minister Amit Shah lauded Modi and said that under his leadership, the "entire world stands firmly with India against its decisive fight against the menace of terrorism". He added, "Message to the world is loud and clear that this new India will leave no stone unturned to keep our country safe and united."
External Affairs minister S Jaishankar referred to Modi's Madison Square Garden speech, his first US address after becoming the prime minister in 2014, which was also attended by a large number of people. "A great day in Houston with 'Howdy, Modi'. Raising the Madison Square Garden tradition to new levels."
Republican senator for Houston, Pete Olson said that the event had displayed "unbreakable bonds" with pictures of Modi and Trump "hand-in-hand" during their lap of the NRG Stadium in the city.
Anupam Kher, tweeted about the spectacular sight where 50,000 Indian-Americans cheered for PM Modi. Calling it a historical and emotional moment, Kher reiterated that he had never seen such a bonding between two countries.
Actor Vivek Oberoi thanked PM Modi for making his country proud once again.
Actor Akshay Kumar, while retweeting a video shared by PM Modi, was elated to see that millions of Indians were present at the event. Kumar reiterated that with this, India has arrived at the global level.
While cricketer Gautam Gambhir called PM Modi as a leader of 1.3 billion people.