IIM Calcutta ranks 3rd among B schools in NIRF 2021 ranking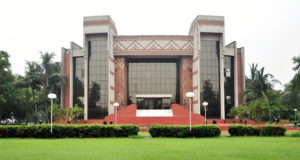 JNS I Kolkata: Indian Institute of Management Calcutta has secured 3rd rank in the National Institutional Ranking Framework 2021 with an overall score of 80.04. The institute scored highest among the top three institutes (18.4) in the Combined metric for Faculty with PhD (or equivalent) and Experience (FQE) parameters. The improvement in the Quality of Publication metrics is a testimonial to the institute's strengthened focus towards research efforts in the last one year.
IIM Calcutta performed well in terms of diversity, scoring 24.31 in Percentage of Women and 0.73 in Inclusion of Economically and Socially challenged students, as compared to 23.41 and 0.59 last year, in the respective parameters. It also scored highest (72.90) in Outreach and Inclusivity Index among the top 20 B schools.
Commenting on the 2021 Rankings, Professor Manish Thakur, Dean, New Initiatives and External Relations, IIM Calcutta said, the ranking has displayed IIM Calcutta's consistent commitment towards making the institute excel in various categories and make it a lucrative destination for management education for students from all walks of life.
"The institute's state of the art research infrastructure has been instrumental in facilitating our faculty members to publish their work in leading journals, and also becoming one of the top choices for students to pursue PhDs. The recognition has motivated us to work harder towards the eminence of our institute and achieve greater accomplishments," he added.