IIT-ISM researchers develop 'Advanced Luminescent Material' for Defence, Security Applications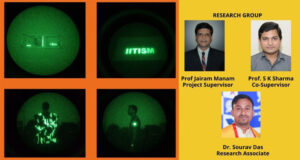 Ashis Sinha I JNS: The researcher's of the Department of Physics of IIT-ISM Dhanbad developed 'Near Infrared Long Persistent Phosphor for Night Vision Surveillance and Anti-Counterfeit Applications'.
The research team consisting of Professor J Manam, Professor SK Sharma and Dr Sourav Das of IIT-ISM, Dhanbad, Department of Physics has developed Advance Luminescent Material for defence and security applications, informed Rajni Singh, Associate Dean, Media & Branding of ISM.
Long persistent luminescence is a phenomenon in which material exhibits light for a long time after the excitation source is removed, said Professor Jairam Manam, Project Supervisor.
"Long persistent Phosphor material is developed which gives emission in the near infrared (NIR) region. The material can be excited by solar radiation in day time and NIR emission is observed by Night Vision Monocular for 24 hours," he added.
As the material emits NIR persistent light, it is used as a secret light source for night vision devices and cannot be tracked by the naked human eye. The developed material is used for tagging, tracking and locating purposes for defence applications, he said.
"The acrylic based paint is prepared to develop long persistent near infrared paints, which can be coated on combat vehicles, ships, weapons, helmets, cloths, tents, rocks for defence applications," added Professor.
The NIR security ink is prepared and demonstrated for anti-counterfeit applications, said Professor Jairam.